J. Cole Brings Out Jay Z and Drake On His Tour Finale
1 September 2015, 11:07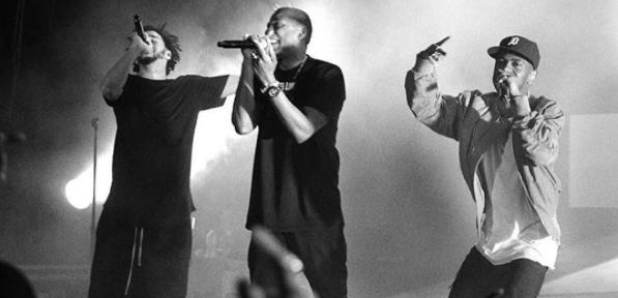 Cole capped off his 'Forest Hills Drive' tour in style
J. Cole rounded off his 'Forest Hills Drive Tour' with a star-studded finale featuring Jay Z and Drake.
After sets from supporting acts Jerimih, YG and Big Sean, Cole brought out Drizzy who performed hits including 'Know Yourself' and Meek Mill diss 'Back To Back'.
The Canadian rapper then praised Cole for being genuine.
He said: "This s**t that we do, this business, it's tough man. It's tough to meet good people, real people," said Drake.
"I want to let you know something about this guy right here. This one of the realest, greatest, most genuine talented motherfu**ers I've ever met in my life. This my brother. I want to be at your wedding one day. We family, boy."

Drizzy also took the opportunity to unleash a fresh verse.
"So much legal action like I'm Michael Jackson/ Luckily I'm great at avoiding distraction/I used to get no reaction now I'm overreacting/Aww ni**a that s**t gotta go platinum," he rapped.
Cole then introduced the "greatest of all time", Jay Z, who lit up the arena with hits including 'Ni**as In Paris', 'PSA' and 'F**kWithMeYouKnowIGotIt'.

The Roc Nation boss then shouted out Cole for putting the show together.
"A month and a half ago, he's like, 'You ain't never did anything for me. I just need one thing. I need you come through my hometown and show love," said Jay Z.
"I want you to know, he thought about this night for years. He planned this night, and I hope it's going exactly how you like."
"It's perfect," responded Cole.