Bhad Bhabie & Dr. Phil: What did the star say about the Utah ranch facility?
2 March 2021, 17:31 | Updated: 3 March 2021, 11:04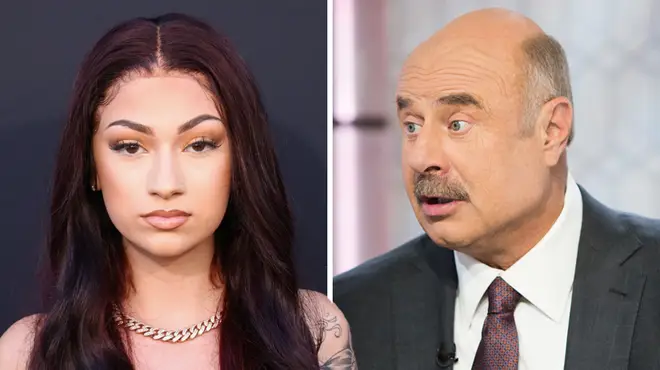 Danielle Bregoli has detailed alleged misconduct from the rehabilitation facility Dr Phil had referred her to.
Bhad Bhabie has returned to social media to let fans know about the alleged misconduct at a rehabilitation facility, recommended to her by Dr Phil.
Bhad Bhabie – real name Danielle Bregoli – was known as the "Cash Me Ousside" due to her 2016 infamous appearance on The Dr. Phil Show.
Bhad Bhabie exposes rehabilitation facilty in Utah for alleged misconduct
The rapstress was then described as a "car-stealing, knife-wielding, twerking 13-year-old," and she went on the show to seek advice from Dr. Phil.
Dr Phil recommended a rehabilitation ranch for troubled teens in Escalante, Utah, called Turn-About Ranch.
It's been a few years, Bhad Bhabie has returned to Instagram to reveal the terror she went through while she was at the ranch.
So, what did Bhad Bhabie say about the facility and Dr. Phil?
What did Bhad Bhabie say about Dr Phil?

On Sunday (Feb 28) Bhad Bhabie returned to Instagram with a serious post, warning people about the alleged misconduct at the Turn-About Ranch.

The "Bestie" rapper shared a story on behalf of a young woman who allegedly was groped by a male staffer.

"Turn about ranch treatment facility punished this young lady Hannah for reporting that one of their staff members assaulted her," wrote Bregoli.

The rapstress also alleged that the kids at the facility aren't allowed to contact the outside world, not even their parents.

Specifically calling out Dr. Phil, Bregoli said: "There's been a Murder at this facility, reports of torture and now a report of sexual abuse and Dr. Phil still continues to send trouble children here even after knowing this stuff has happened at this facility".

Bhad Bhabie calls for the Utah rehabilitation facility to be shut down on Instagram Live.

Picture: Instagram

Detailing her own experience, Bregoli said: "I went through being malnourished, abused , and having to do hard labor and being there while someone was murdered."

She added "I came back with more trauma then I went there with. I was sent to this place to get help."

Bregoli later went on Instagram Live to explain why she was exposing the alleged misconduct.

While she hadn't been sexually assaulted at the ranch, she revealed she had experienced being abused and punished unnecessarily.

What does Dr. Phil think of Danielle Bregoli?

In September 2016, Danielle and her mother, Barbara Ann, discussed their tense relationship on Dr. Phil.

Dr. Phil referred Danielle to a residential program in Utah called Turn-About Ranch.

Phillip Calvin McGraw, also known as Dr. Phil, is an American TV host and psychologist. Picture: Getty

After the program, Bregoli returned to the Dr Phil show in February 2017, where she revealed the progress she had made.

The star said "I just feel OK with who I am now. I don't have to put on a front to impress anyone." she told Dr. Phil during the show.

Bregoli did tell Dr. Phil that she made his show more popular.

"I guess what's good for you is, I made you just like Oprah made you. You were nothin' before I came on this show", to which he replied "Thank you for that."

What May Be Driving A 13-Year-Old's "Out-Of-Control" Behavior

In a 2019 interview with Joe Rogan, Dr. Phil said "I take no credit or blame, you know, I just did what I could and haven't seen her since.

Dr. Phil, nor the ranch facility have commented on this as of yet.

This article will be updated accordingly.