Beyoncé And Jay Z Condemned For Posing In Photo With Baby Tiger
7 January 2015, 11:34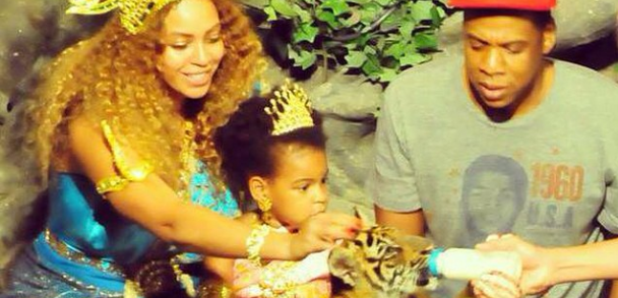 World Animal Protection have some words for Beyoncé and Jay Z.
As Beyoncé and Jay Z toured Southeast Asia over the holiday period plenty of photos of them in tourist hotspots have been making their way around the internet. But one photo in particular has been causing a lot of controversy.
The couple were pictured with their daughter Blue Ivy feeding a baby tiger in Phuket, Thailand - a tourist activity that it's often advised to avoid because of underlying cruelty to the animals.
"A tiger is not a plaything," Schmidt-Burbach, who works for World Animal Protection recently said of the Carters photo.
"Their health and well-being should not be sacrificed for a photo opportunity. When you look behind the scenes, vacation snaps like these support an industry that relies on animal cruelty… this sordid side of tourism is conveniently hidden from public view."
"I urge anyone who is thinking about posing with a wild animal to watch World Animal Protection's video to learn the facts before they book their next vacation."
Over the New Year, Beyoncé and Jay Z recorded a special video message for US Troops posted in Afghanistan, which was shown to them in the minutes after they counted down to 2015. The video showed footage of their 2014 'On The Run HBO' documentary.