Jada Pinkett-Smith Slams Sweden's "Racist" Treatment Of A$AP Rocky After G-Eazy Comments
22 July 2019, 10:47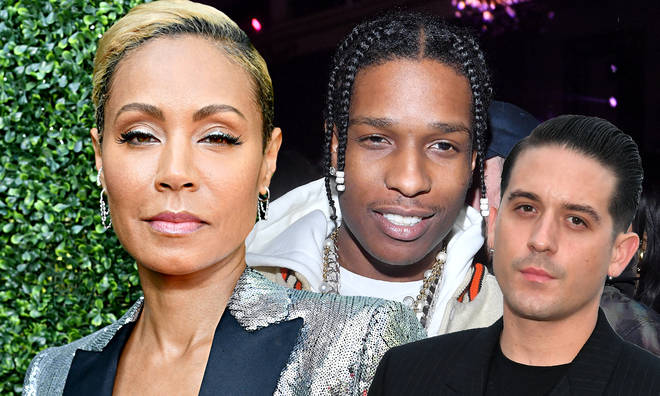 The 'Girls Trip' actress tweeted about A$AP Rocky's treatment in Sweden compared to that of G Eazy, who previously called out the country's authorities for "systematic racism."
Jada Pinkett-Smith has spoken out on the treatment of A$AP Rocky, who is currently imprisoned in Sweden on assault charges.
The 47-year-old actress appeared to respond to a post made by rapper G Eazy, who outlined his treatment in the country when he was arrested there in May 2018 on assault and drug charges.
Quoting a post from TMZ reading "A$AP Rocky treated way differently than white rapper," G Eazy called out Sweden's perceived racist behaviour towards the 'Praise The Lord' rapper.'
"This is the sad truth...The difference between me and Rocky's treatment and process in Sweden brings to mind two concepts that disgustingly go hand in hand: white privilege and systemic racism," he wrote.
"Let's call it what it is. He should not be behind bars right now. My heart goes out to my brother @asaprocky and his team. We're riding for yall."
After being arrested in Stockholm for punching a security guard in a club and possessing drugs, prosecutors allowed the rapper to strike a deal and go home less than two days later.
Jada, who has previously spoken out in favour of Rocky's release, tweeted about the rapper's differing treatments. "Hold it ... G-Eazy got to strike a deal a day and half after possession of drugs and assault charges???" she wrote.
"But you're holding Rocky. We got the message loud and clear Sweden. Trust me ... we got it."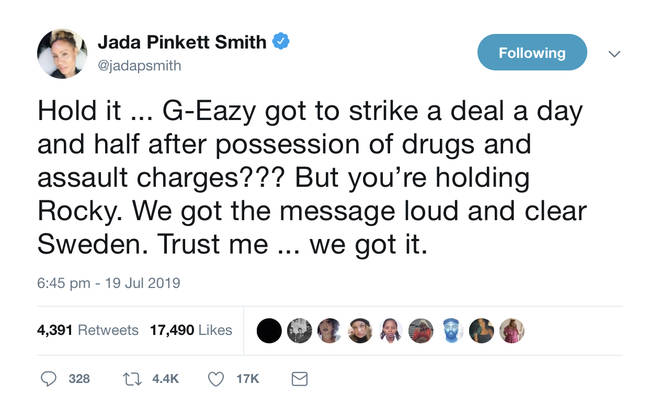 Last week, a judge ruled that Rocky will stay locked up in Swedish jail while prosectors decide whether to indict him on the assault charges.
Rocky was arrested on 2nd July on suspicion of assaulting a man on the street in Stockholm. The rapper was allegedly was followed by two men after they claimed Rocky broke a pair of their headphones.