A$AP Rocky Wore A 'Grandma' Scarf & The Internet Is Losing It
7 November 2018, 12:13 | Updated: 7 November 2018, 13:28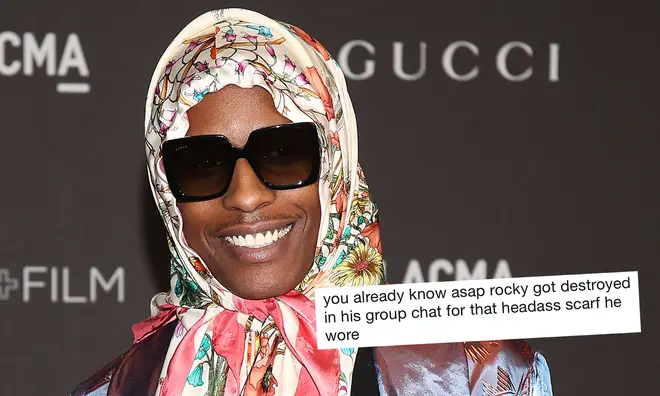 The 'Praise The Lord' rapper turned heads on the red carpet at the 2018 LACMA Art and Film Gala last week wearing a silky Gucci head scarf, and the reaction on social media was... mixed.
A$AP Rocky pushed the boundaries of fashion last weekend by rocking a silky headscarf on the LACMA 2018 red carpet.
The 'Praise The Lord' rapper was dripping in Gucci threads as he made his way into the gala, wearing a blue satin tuxedo, faux fur-trimmed loafers, a slick pair of sunglasses and a floral scarf wrapped around his head.
"I just wanted to show off my babushka," he told an interviewer on the red carpet. "I thought it was so immaculate. And I feel like I look so handsome right now with the shades on. I'm just encouraging all guys to wear babushkas from here on out."
Rocky's latest head-wear accessory has divided the Internet, however. Some fans are really feeling the rapper's look, while others are mocking Flacko's babushka and saying he looks like a "grandma."
Is Rocky about to start a new trend in these streets? Would you wear his babushka? Rocky's 'silk scarf with Flora Gothic print' comes in at £315 and is available now on the Gucci website. If you were interested.