A$AP Rocky 'Proves He's Innocent' With Video Footage Of Sweden Assault Before Arrest
3 July 2019, 15:51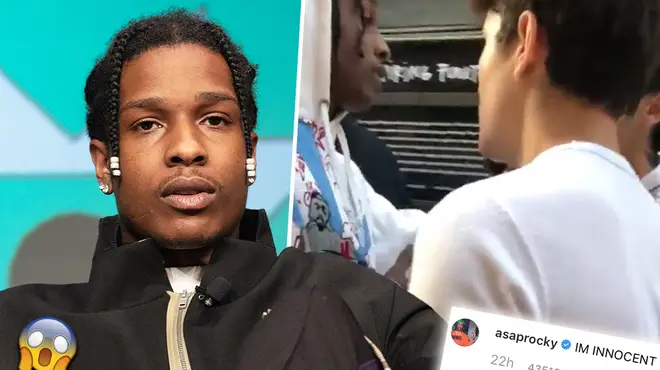 Asap Rocky pleaded his innocence on Instagram with videos of the Sweden incident, just before he got arrested.
On Tuesday night (Jul 2nd) A$AP Rocky was arrested on suspicion of assaulting a man on the street in Stockholm, Sweden. The Harlem rapper allegedly was followed by two men after they claimed Rocky broke a pair of their headphones.
After TMZ released footage of the argument which escalated into a fist fight, with Rocky and his team fighting the two men, the news started to spread. However, Rocky took to his own Instagram to expose the full video.
According to The Hollywood Reporter, The Stockholm Prosecutor Office revealed that a request had been made for Rocky's arrest.
On Tuesday (Jul 2nd) The "Goldie" rapper took to Instagram to post various clips which shows two men following and 'harassing' Asap and his team.
In one of the clips, Rocky and his bodyguard can be heard repeatedly tell the men to stop following them. One of the men appears to hit Asap's bodyguard with a pair of headphones.
The "Fashion Villa" rapper comments on the video saying "hits security in face with headphones then follow us," Rocky wrote on Instagram. "Im innocent. They trynna arrest me out here now, SMH."
In the caption to another video, Asap wrote "So a few drug addicts are not my fans. We don't know these guys and we didn't want trouble, they followed us for 4 blocks, and they were slapping girls butts who passed, give me a break."
(In one of the videos, an unseen woman can be heard telling Rocky that one of the men "slapped [her] ass and [her] girlfriend's ass.")