19 RnB Songs To Help You Fall Asleep
1 May 2015, 14:35 | Updated: 21 July 2017, 17:22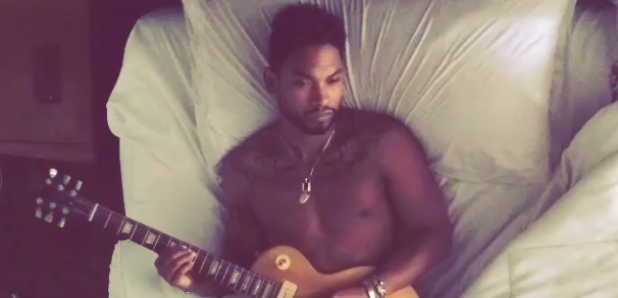 Featuring songs from Miguel, Jhené Aiko, Beyoncé and The Weeknd, this is the ultimate sleepy music playlist to help you sleep at night.
We've all been there, tossing and turning in bed with absolutely no hope of falling asleep, the alarm time drawing closer and closer. If you get inbetween the sheets and struggle to switch off what you need is a playlists full of calming music to fall asleep to.
We've put together a mixture of some of the most relaxing RnB songs that are soft enough to send anyone off into a snooze.
Featuring songs from Ed Sheeran, Miguel, The Weeknd and Drake, hit play on your ultimate sleepy songs playlist below.
John Legend - 'All Of Me'
John Legend's first number one single, written about his fiance Chrissy Teigen, is a beautiful now as it was when it was released last year.
The Weeknd - 'High For This'
Again, there aren't many The Weeknd songs that don't fall into the 'chill out' genre. 'High For This' is a classic.
Beyoncé - 'Me, Myself & I'
One of Beyoncé's most underrated songs, 'Me, Myself & I' hears Bey go mid-tempo, showing off her naturally so soulful vocals.
Rihanna - 'Stay'
It's not often Rih blesses fans with a slow song, but when she does, she does it right.
Alicia Keys - 'Try Sleeping With A Broken Heart'
Alicia has the ability to instantly ease you with the sound of her voice and her fingers on the piano. 'Try Sleeping With A Broken Heart' is one of her less-famous, but oh-so-beautiful love songs.
Chris Brown - 'With You'
Let's take it back to old-school Breezy when the baby faced rnb singer sung romantic love songs that made you fall in love.
Destiny's Child - 'Emotion'
Arguably the most emotional Destiny's Child song ever, it's probably best not to listen to this song if you're already feeling a bit sensitive (unless you want to cry yourself to sleep).
Aaliyah - 'I Miss You'
Because no one is, or ever was, as effortlessly breezy as the Princess of RnB.
Wiz Khalifa Feat. Charlie Puth - 'See You Again'
Wiz Khalifa's new chart-topper features a stunning vocal from Charlie Puth on the chorus.
Drake - 'Marvin's Room'
Marvin's Room is a must.
Frank Ocean - 'Miss You So'
How could we not include some Frank Ocean on the list?
Usher - 'Moving Mountains'
Usher's 'Moving Mountain's works far better than counting sheep, try it!
Ed Sheeran - 'Bloodstream'
Or any Ed Sheeran, at all, ever. Because Ed Sheeran was put on this Earth to lend his soothing voice to others ears.
Chris Brown - 'Take My Time'
Trey Songz - 'Slow Motion'
Trey's 'Trigga' single 'Slow Motion' does was it says on the tin.
Jhené Aiko - 'Comfort Inn Ending'
Jhené Aiko knows how to vibe-out better than most, so hit play on what we think is one of her most emotional tracks and unwind.
Drake Feat. Sampha - 'Too Much'
"Don't think about it too much, too much, too much, too much..." - you heard what Sampha said.
Miguel - 'Adorn'
Miguel's 'Kaleidoscope Dream' album spawned many hits that we'll be hitting play on for many years to come, but none moreso than his beautiful love song 'Adorn.' Also check out the Jessie Ware version, for a subtle change.