Solange Knowles And Her Son Dancing To 'No Flex Zone' At Her Wedding Is Brilliant
18 November 2014, 10:08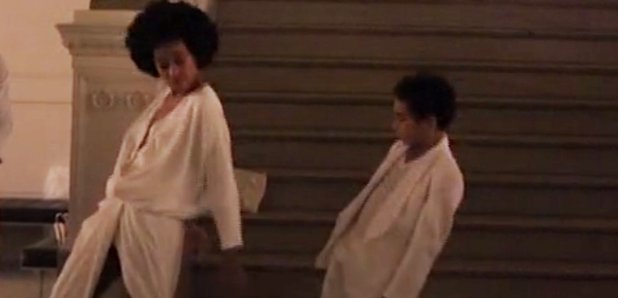 Nailed it.
A video of Solange Knowles and her 10-year-old son Daniel Julez Smith, Jr pulling off an epic choreographed dance to 'No Flex Zone' during her wedding to director Alan Ferguson this week has been revealed.
Family and friends gathered round to cheer on Blue Ivy's aunt and older cousin as, dressed all in white, they dropped some seriously sweet moves alongside each other and rounded it all off with a hug.
Beyoncé and Jay Z attended the ceremony in New Orleans, which saw all guests wear white from head to toe for both the ceremony and the party.
Solange ditched the traditional wedding dress custom, opting for a plunging white jumpsuit which she wore as she cycled to the event with her partner by her side.