This Public Enemy Fan Gave The Rappers A Lift To Their Show In His Ford Focus
1 December 2015, 16:40 | Updated: 1 December 2015, 16:54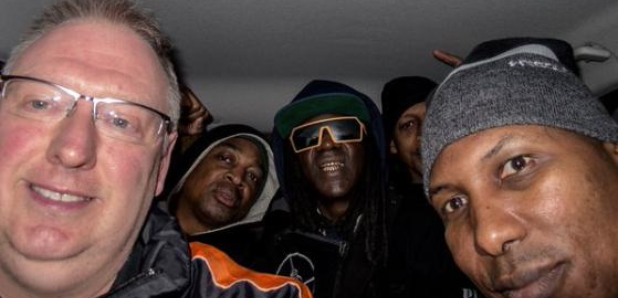 Kevin Wells volunteered after their taxi drove off.
A Public Enemy fan had to drive the band to a show in his Ford Focus, shortly before they were set to perform.
Photographer Kevin Wells managed to fit Chuck D, Flavour Flav and the rest of the Public Enemy entourage into his car and drove them to Motorpoint Arena in Sheffield, after they were left stranded.
Wells was with the rap group at the 'Record Collector' store in the city, getting autographs ahead of a busy night photographing other gigs.
However the taxi, which was booked to take the rappers to their show, drove away before they had finished signing autographs – leaving Wells to come to the rescue.
"People started panicking and looking for someone to drive, so I volunteered," Mr Wells told the Sheffield Star.
During the journey, which he has described as "surreal", the iconic rap group sang along with him to Queen's classic hit 'Bohemian Rhapsody'.
They arrived at the arena around 15 minutes before they were scheduled to perform.
"I drove up to security and said, 'I've got the band in the back,'" said he said.
"They looked at me as if I was having them on, but then I rolled down the windows and Chuck D showed them the security pass."
"Amazing, it just didn't feel real."
Public Enemy, who are currently on a tour of the UK, were inducted into the Rock And Rock Hall Of Fame in 2013.