Rick Ross, Ed Sheeran, Wiz Khalifa And More To Feature On Krept & Konan's New Album
23 March 2015, 11:00 | Updated: 10 July 2015, 11:23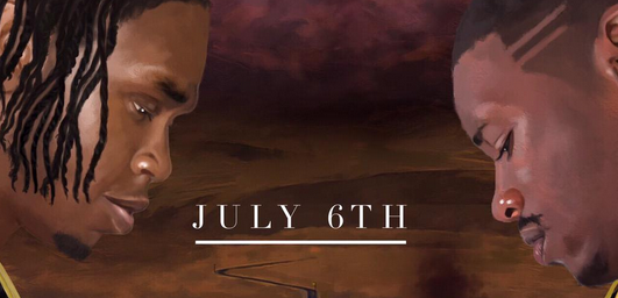 Krept & Konan have revealed all about new album 'The Long Way Home.'
Krept & Konan's first major label album has been a long time coming, but finally the London duo have unveiled that we can expect the record, titled 'The Long Way Home,' to drop on 6th July 2015.
The 'Young Kingz' rappers have rounded up some impressive names to feature on the highly anticipated album. Rick Ross makes an appearance on the song 'Certified,' Emeli Sande helps close the show with 'Roses,' while Ed Sheeran, Skepta, Wiz Khalifa and more big hip hop acts also make appearances.
PRE ORDER OUR DEBUT ALBUM #TheLongWayHome ITUNES: http://t.co/DDsuVkM02E GOOGLE PLAY: http://t.co/fyjlhAuet4 RT pic.twitter.com/XKvbgSIRDj

— KONAN (@konanplaydirty) March 23, 2015
But the song that everyone can't wait to hear is track three, which features 'Konan's Mum!' (Yes, that is how she is officially credited.)
Find the full tracklist for 'The Long way Home,' available to pre-order now, below.
Tracklist:
1. The Long Way Home (feat. Derrick Morgan)
2. Last Night (feat. YG)
3. Fell Apart (Interlude) (feat. Konan's Mum)
4. Fell Apart / Lucky Ones
5. Drifting Away
6. Do It For The Gang (feat. Wiz Khalifa)
7. I Don't Know (feat. Rebecca Garton)
8. Certified (feat. Rick Ross)
9. Because Of You
10. Think About It
11. Freak Of The Week (feat. Jeremih)
12. Wait Up For Me (Interlude)
13. Wait Up For Me / Waiting
14. F.W.T.S / Active (feat. Skepta)
15. Dreams (feat. Ed Sheeran)
16. Roses (feat. Emeli Sande)
Deluxe Edition:
17. So Easy
18. Falling
19. Messages