DJ Khaled Got Lost At Sea Riding A Jet Ski And It Got Very Real
16 December 2015, 10:56 | Updated: 13 January 2016, 17:00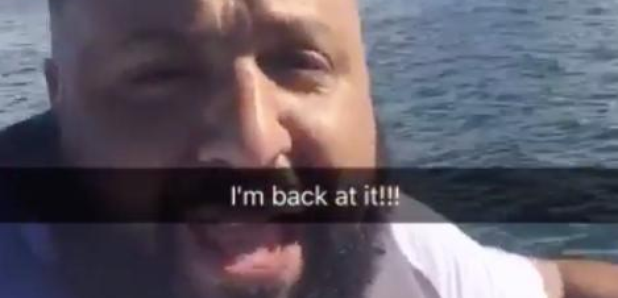 The label boss was attempting to get home from Rick Ross' house.
DJ Khaled got lost at sea while riding his jet ski and filmed the whole experience on his Snapchat.
The music mogul, who has one of the most entertaining Snapchat accounts ever, hilariously documented his experience of being stranded on the water in Miami after the sun had set.
"Its so real out here smh," he captioned one of his posts.
Watch the dramatic footage below:
"It's dark, and in a minute, there's going to be no light," says Khaled in the first video.
"It's pitch-black out here, I put the flash on the phone," he adds in another clip as he attempted to race to dry land before the light deteriorated completely.
"It's so dark out here, we don't know where the hell we are at, but the key is to make it. The key is to never give up."
The situation arose after Khaled rode his jet ski to Rick Ross' house earlier in the day.
(Warning: This clip contains strong language that some people may find offensive.)
DJ Khaled pulled up to Rick Ross' house on a jetski I'm actually dying pic.twitter.com/j6bgeuml2Q

— Saeed Awawdeh (@SaeedAwaw) December 14, 2015
However as he left to head back home, he quickly realised he was in a race against time, as his jet ski had no lights.
Thankfully, the We The Best label boss made it home safely.
I made it I'm back thank u to all yall checking in please never try to drive Jets skies at night and especially if your lost at sea bless up

— DJ KHALED (@djkhaled) December 15, 2015
But not before leaving his fans with an important message: "The key is not to drive your jet ski in the dark. This is against the law. Not even just that. This ain't right".