The 5 Best Carpool Karaokes Of 2015
15 December 2015, 11:47 | Updated: 11 May 2017, 15:53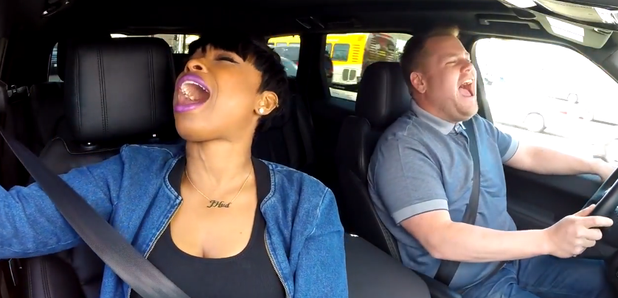 Featuring Carpool Karaokes from Jennifer Hudson, Justin Bieber and Stevie Wonder - these are a must-see before the year is out.
Since travelling across the pond for his brand new gig, hosting The Late Late Show, James Corden has had the world in stitches of laughter, mainly due to his hilarious video series of 'Carpool Karaoke.'
Joined by an incredible line-up of special guests, including Jennifer Hudson, Stevie Wonder, Iggy Azalea and more, we've rounded up what we think have been the five funniest journeys James Corden has taken through the streets of L.A this year.
Check them out below, and let us know which one is your favourite.
1. Jennifer Hudson
J Hud's Carpool Karaoke is a strong competitor for best Carpool Karaoke of the year, the singer performs amazing renditions of some of her most famous songs, including 'If This Isn't Love,' her Dreamgirls soundtrack song 'And I Am Telling You I'm Not Going' and Iggy Azalea collaboration 'Trouble.' But the best part of the journey is when Corden makes a stop at a drive through and J-Hud decides to sing his order of a cheeseburger, fries and diet coke, much to the employees amusement.
2. Iggy Azalea
The timing for Iggy Azalea's car journey with James Corden couldn't have been better as the 'Fancy' singer had just announced her engagement to basketball player Nick Young. So what did Corden do? Take her wedding dress shopping, of course.
3. Stevie Wonder
After convincing Stevie not to drive during his Carpool Karaoke, James Corden took the wheel and joined the singer as he blasted out his most famous songs, including 'Superstition', 'Sir Duke', 'Isn't She Lovely' and 'Signed, Sealed, Delivered.'
4. Rod Stewart and A$AP Rocky
It was an amazing surprise when A$AP Rocky joined Rod Stewart for a special appearance during his drive around the streets of LA. With Corden behind the wheel and Stewart in the passenger seat, Rocky popped up out of nowhere in the backseat to contribute his verse as they sung Miguel and Mark Ronson assisted song 'Everyday.'
5. Justin Bieber
For round two of Bieber's Carpool Karaoke, he covers Kanye West's 2007 hit 'Stronger', gives Corden some fashion tips and even takes the British presenter shopping. Check it out above.
Vote for you favourite Carpool Karaoke of 2015:
My favourite Carpool Karaoke of 2015 was...