18 Times Kylie Jenner And Tyga's Snapchats Were Too Much Information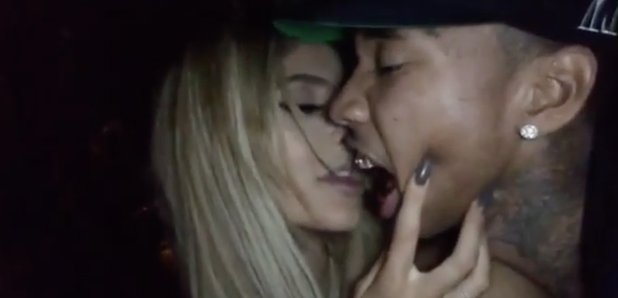 If you didn't Snapchat it, it didn't happen.
Ever since they went public with their relationship on Kylie's 18th birthday, Tyga and Kylie Jenner have gone all out with their PDA.
But if you thought the 25-year-old rapper and his girlfriend were OTT with their constant kissing and hand-holding whilst out and about in public, wait until you feast your eyes on what they get up to in private.
Kylie Jenner's Snapchat pretty much documents all of the loved-up couples moments together, and sometimes it's just too much information.
1. That time Kylie bit Tyga's lip
2. That time Kylie told Tyga she missed him when he was all the way... downstairs.
3. That time Tyga rapped sweet nothings in Kylie's ear... about having a "marshmellow booty."
4. That time they were so obsessed with each other they were basically attached.
5. That time Kylie filmed herself giving Tyga a head massage and it was creepy AF.
6. Almost as creepy as this time she stroked his face.
7. That time Kylie shared a photo of herself in Tyga's boxers.
um, cool.
8. That time you opened your Snapchat and suddenly felt like a third wheel.
9. That time they weren't really feeling themselves, they were feeling each other.
10. That time the kiss noises were like nails on a chalkboard.
11. One of the many times they just stood there and posed. Because why not.
12. That time Tyga scratched Kylie's itch because he loves her that much.
13. That's not even the first time Tyga's scratched Kylie's chin. It's not even the first time she's Snapchatted it.
14. That time Kylie just threw herself on Tyga.
15. And then filmed herself as she squashed her body in his face.
16. Even Tyga is growing tired of this.
17. Kylie, Tyga doesn't want to be on Snapchat ALL DAY.
Half the day is enough.
18. So obviously Kylie Snapchatted the whole thing.
It's all too much information.