Is Tyga on OnlyFans, does he have a sex tape and what are the leaked pictures?
7 April 2021, 09:52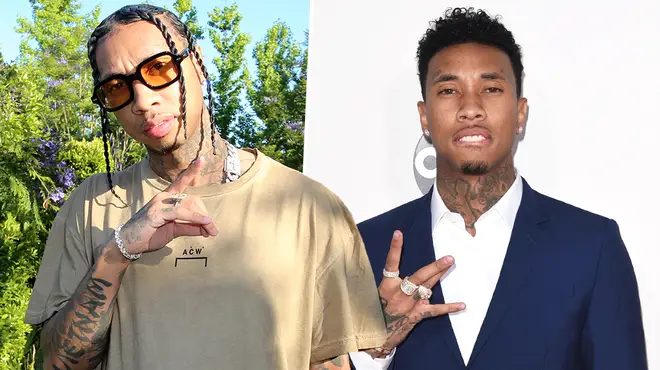 Fans have been speculating about Tyga's OnlyFans account, alleged sex tape and his leaked nudes – But how much of it is true?
Tyga has been in headlines recently for a few reasons linking to his sexual content being online.
Back in October, the 30-year-old rapper was rumoured to have joined OnlyFans – a subscription service where content creators can earn money from users who subscribe to their content.
Many people have questions as to what Tyga uses OnlyFans for, whether he really has a sex tape and if his nudes were leaked.
Find out more about the rapper and what he's been up to below.
Is Tyga on OnlyFans? How much does he charge?

At the beginning of October, Tyga launched his OnlyFans account to tease his upcoming song "Money Mouf" with Saweetie and YG.

According to a statement from OnlyFans, the "Hookah" rapper also be using his platform to share an X-rated version of the track's music video.

"Tyga's OnlyFans subscribers will be treated to exclusive behind the scenes content that is too hot for mainstream social media outlets, like an X-rated version of his video to support his upcoming single release, 'Money Mouf' with Saweetie and YG," the statement reads from OnlyFans.

Tyga also spoke on his decision to join OnlyFans. "This platform is a place of self-expression for everyone; from every day people, to models, sex workers, actors, and now artists like myself," he said.

"I'm excited to launch my personal Only Fans. It's a new platform where I can talk direct to my fans and give them exclusive music, pics, videos and other BTS of my latest releases."

"They can really see more inside my life than ever before, and an intimate look of what I do every day. It's 'bout to be lit!."

Tyga uses his other social media accounts such as Twitter and Instagram to promote his OnlyFans account, by sharing teasers.

In a photo shared on Instagram, he posted a photo of himself with a bunch of topless women and captioned the snap "Rack City."

Tyga allegedly charges paying fans $15 per month for NSFW content on the subscription website.

On Tuesday (Apr 6) singer K. Michelle let her fans know she had subscribed to Tyga's OnlyFans account – and she was impressed with what she saw.

"Omg!!! Tyga page is hotttt! It's sexual but still gives me artistic. I love it" the star wrote.

Omg!!! Tyga page is hotttt! It's sexual but still gives me artistic. I love it

— K. Michelle (@kmichelle) April 6, 2021

Does Tyga have a sex tape with TikTok star Bella Poarch?

On Wednesday (Oct 14) Tyga's fans took to Twitter to discuss an alleged sex tape with 19-year-old TikTok star Bella Poarch.

The pair were linked as the rapper's fans claimed there is a sex tape leak which shows Tyga and Poarch getting real close and intimate.

Although many fans claimed that they've seen the video, others weren't convinced, due to the lack of evidence of the video.

Tyga's subscribers on OnlyFans have kept quiet about how they were able to attain the alleged sex tape.

19 year-old Bella Poarch has over 36 million followers on TikTok. The popular social media star recently blew up in mainstream news due to her connection to rapper Tyga.

Did Tyga's nudes get leaked online?

On Thursday (Oct. 1) alleged photos of Tyga's genitals reportedly started to emerge on social media via his OnlyFans account.

One of Tyga's OnlyFans subscribers allegedly leaked photos of his privates on Twitter.

The rapper was trending on the social media platform, with many reshaping the leaked photos of Tyga's genitals.

What is Tyga's 'Too Raww' modelling company about?

On Monday (Nov 16) Tyga launched "Too Raww," a lifestyle, entertainment, and management company.

The rapper shared a casting call ad on the company's Instagram. "Looking to be a Too Raww Model? Looking to start OnlyFans? Or get OnlyFans management? DM @tooraww," the ad reads.

Tyga's new business venture will generate more money for him as well as the models. It's also a way for models looking to grow on OnlyFans or make a come-up on the service.