Mike Tyson Allegedly Beat Up The Game's Manager For Suggesting Tupac Was Bisexual
31 May 2019, 12:40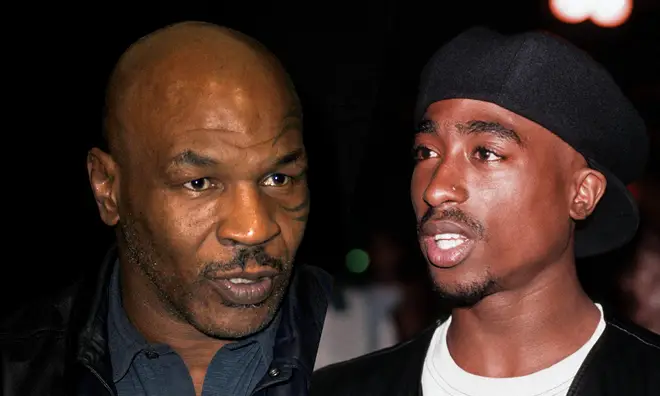 While filming for Tyson's podcast 'Hotboxin with Mike Tyson,' rap mogul Wack 100 reportedly got into a fight with the boxing legend over unearthed claims about Tupac.
Mike Tyson allegedly got into a fist fight with The Game's manager, Wack 100, over some unearthed rumours about Tupac.
The pair were said two have been recording an episode of Tyson's podcast 'Hotboxin with Mike Tyson,' before a discussion surrounding the deceased rap legend took a violent turn.
Things allegedly got so heated that a physical fight broke out between the pair, with punches being thrown over a subject surrounding Tupac that may have had something to do with his sexuality.
Back in January, Wack shared a photograph appearing to show Tupac and Digital Underground star Money B in bed together, and made suggestions about the rapper's sexuality in the caption.
"Sooooo Tupac was bisexual," reads the text above the image, while Wack's caption suggested that Tupac was gay. Some users online have suggested that the image has been photoshopped.
After reports of the alleged fight surfaced, both Tyson and Wack have been engaged in a back-and-forth debate about who came out victorious, and who fought better.
Tyson shared an old photo of himself alongside Tupac with a headstrong caption. "Everybody has a plan 'til they get punched in the mouth," he wrote, adding, "ain't that right" towards Wack.
Wack soon jumped into the comments, and suggested that it was him who threw hands first, writing, "We both know who mouth was bleeding first!!!!"
In an Instagram post, Wack later claimed that Tyson's podcast team had apparently reached out to him and asked him about the possibility of releasing "all the footage" - which he approves.
"PUT THAT S**T UP, ALL OF IT, NOW!" he wrote. "LET THE WORLD SEE WHO WENT FIRST!" No word yet on whether the beef has been squashed, or whether the footage will eventually surface.