Donald Trump Threatens Snoop Dogg With Prison After Dropping This Controversial Music Video
15 March 2017, 16:04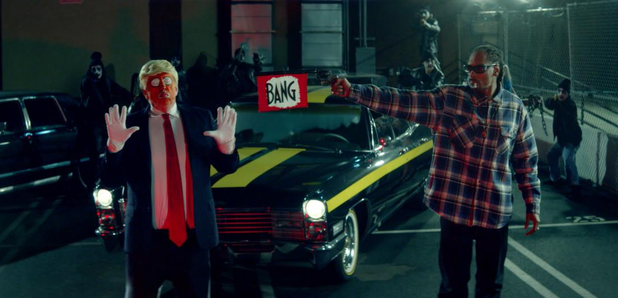 President was unimpressed.
Snoop Dogg has faced some serious backlash from President Donald Trump after mocking him in his controversial music video for 'Lavender (Nightfall Remix).'
The video for the BADBADNOTGOOD/Kaytranada track portrays Snoop Dogg holding a novelty gun to the head of a Trump impersonator and shooting out a small 'Bang' flag.
In response to the fake assassination, the recently-elected US President critiqued the rapper in a tweet to his 26.5 million followers shortly after the clip premiered online.
Trump blasted Snoop's "failing career" before threatening him with "jail time".
Can you imagine what the outcry would be if @SnoopDogg, failing career and all, had aimed and fired the gun at President Obama? Jail time!

— Donald J. Trump (@realDonaldTrump) March 15, 2017
Directed by James DeFina and YouTube star Jesse Wellens, the video is set in a city filled with clowns and was intended to be a satirical look on current events.
"When I originally wrote the idea of the video, the video of [Philando Castile] getting shot came out online and it was causing riots," explained Wellens to Billboard.
"We just kind of wanted to bring the clowns out, because it's clownery - it's ridiculous what's happening."
Snoop also shared his view on the music video, explains he never "looks for a reaction" from his material.
"When I be putting sh*t out, I don't ever expect or look for a reaction," he said. "I just put it out because I feel like it's something that's missing."
"Any time I drop something, I'm trying to fill in a void," he continued. "I feel like it's a lot of people making cool records, having fun, partying, but nobody's dealing with the real issue with this f*cking clown as president.
"I wanted to take time out to push pause on a party record and make one of these records for the time being."
'Lavender (Nightfall Remix)' is expected to feature on Snoop's upcoming record 'Never Left', the follow-up to last year's 'Coolaid'.