Rick Ross Responds To Nicki Minaj's Savage "Sit Your Fat Ass Down" Diss In New Interview
16 August 2019, 10:16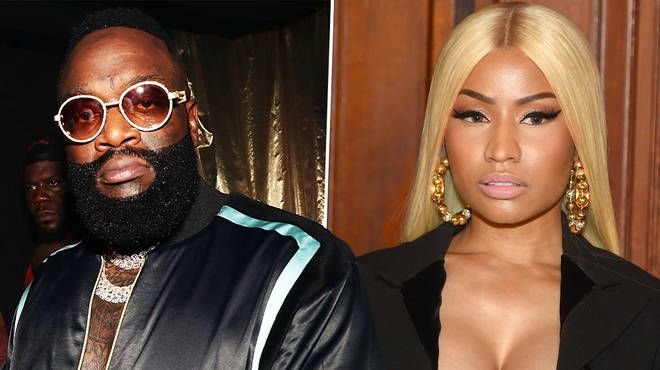 Mississippi rapper Rick Ross has spoken out after Nicki Minaj said he should "sit his fat ass down" following his comments about her relationship with Meek Mill.
Rick Ross has responded to Nicki Minaj telling him to "sit your fat ass down" after a line from his new track "Apple Of My Eye" exposed how he really feels about Nicki.
On the track he threw shade at Nicki's separation from his close friend Meek Mill. In the track he spits "I told Meek I wouldn't trust Nicki/Instead of beefin' with your dog, you just give 'em some distance," he rapped.
During a recent appearance on the Joe Budden Podcast, Nicki Minaj responded to Rick Ross' 2017 song "Apple of My Eye."
Nicki Minaj explained how Ross texted Meek after the meeting with President Obama about how good of a girlfriend she was to him.
"[He] texted dude after the meeting and said, 'Yo, this chick is a keeper.' I saw the text myself with my own eyes," she said. Minaj then said "Boy, sit your fat ass down" at the end of her rant about Rick Ross.
After Minaj dissed Ross, he sat down for an interview at The Breakfast Club, where he responded to Nicki's recent comments.
Ross addressed the Obama comment, saying "I mean, if somebody went to meet Obama with you, she is a keeper until you find out otherwise," said Rozay.
He continued "She was around me a few times but other than that, she was a huge talent but she was playing a very important position at the time. She was in between Meek and Drake at the time."
Ross added "And what she don't know, and what she might not understand coming from a big homie like myself, playing that position, that was a very fragile role."
Rick Ross claimed that at the time Nicki met with Obama, Meek Mill and Drake were beefing online. However, Ross did admit it isn't fair to put the full blame of their feud on Nicki.
Ross said "And it would be very easy to put that responsibility on her. But that ain't what I tried to make it to," Ross told The Breakfast Club.
He added "But most definitely when I seen it go sour, it would be easy to assume she may have had something to do with that and if somebody tells you they didn't, they're lying."
"But everybody moved forward. She moved forward, she doing her thing. I'm happy to see her do that" Ross said.