Who Are R Kelly's Girlfriends Jocelyn Savage And Azriel Clary, And What Have They Said About The Sex Allegations?
25 February 2019, 11:35 | Updated: 25 February 2019, 11:37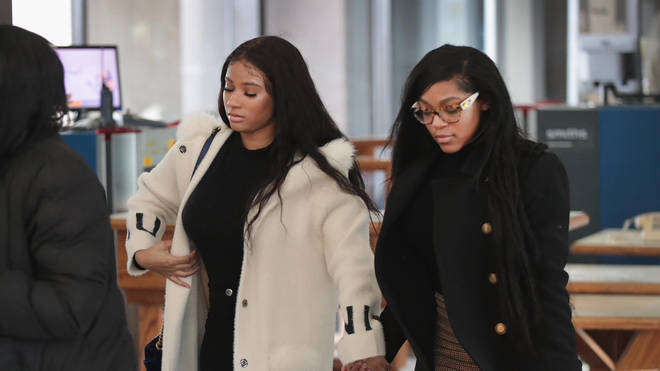 R&B singer R Kelly has been arrested and indicted after a string of sexual abuse claims dating between 1998-2010.
Amid the allegations, the 'Ignition' singer was reportedly in a relationship with Jocelyn Savage and Azriel Clary.
Despite both women's families believing their daughters to be "brainwashed", Savage and Clary have maintained that they were only ever in a consensual relationship with R Kelly.
The women, 23 and 21 respectively, reportedly sat in the court house holding hands, as R Kelly's bond was being set by the judge on Saturday 23 February, 2019.
R Kelly's "DNA Found" In Shock New Sexual Abuse Case Evidence
Who is Jocelyn Savage?
Jocelyn Savage moved to Chicago with R Kelly in order to pursue a career in music.
She last had contact with her family when she was 19, since cutting off all ties with them.
Speaking to TMZ back in 2017 on a video Skype call, Savage denied her family's claims that she was part of a "sex cult".
She said: "I'm 21, I'm about to be 22. I mainly want to say that I'm in a happy place with my life and I'm not being brainwashed or anything like that.
"It's gotten to the point where it's definitely gotten out of hand. I just want everybody to know—my parents and everybody in the world—I'm totally fine and I'm happy where I'm at. Everything is okay with me."
Who is Azriel Clary?
Azriel's father, Angelo Clary, praised Lifetime for creating the docu-series 'Surviving R Kelly', stating: "I love Lifetime for the platform they gave us to give awareness to bring this to an end."
However, Angelo went on to say: "But they [Lifetime] have no clue how much we went through. They have no clue what I did to help my family."
According to Azriel's parents, R Kelly had promised to boost her music career.
When she turned 18, she stopped contacting them and they believe she was then entangled in the "sex cult" allegedly ran by R Kelly.