Nicki Minaj "Takes Full Responsibility" For 'Nazi' Themed 'Only' Lyric Video
12 November 2014, 10:32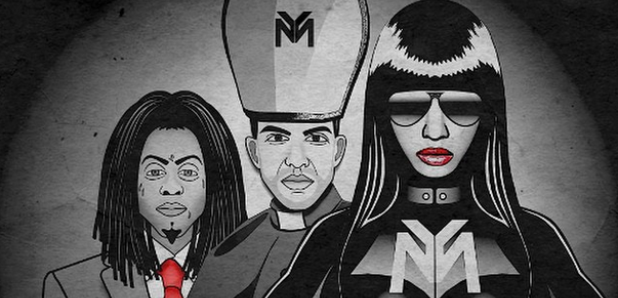 Read Nicki's statement.
Nicki Minaj has apologised and taken full responsibility for the 'Nazi-like' lyric video for new song 'Only' that she she released this week.
The video came under scrutiny for it's nazi-like imagery, including the outfits, posters and logos in it which are strikingly similar to Nazi propaganda from the Second World War.
The 'Anaconda' singer has taken to Twitter to defend the video whilst also taking full responsibility for any offence caused.
The artist who made the lyric video for "Only" was influenced by a cartoon on Cartoon Network called "Metalocalypse" & Sin City.

— NICKI MINAJ (@NICKIMINAJ) November 11, 2014
Both the producer, & person in charge of over seeing the lyric video (one of my best friends & videographer: A. Loucas), happen to be Jewish

— NICKI MINAJ (@NICKIMINAJ) November 11, 2014
I didn't come up w/the concept, but I'm very sorry & take full responsibility if it has offended anyone. I'd never condone Nazism in my art.

— NICKI MINAJ (@NICKIMINAJ) November 11, 2014
Meanwhile, the video's director has said in an official statement that he refuses to apologise for his work.
The statement, released on his MySpace page, reads:
"Before I start, be clear that these are my personal views and not the views of Nicki Minaj, Drake, Lil Wayne, Chris Brown, or Young Money. First, I'm not apologizing for my work, nor will I dodge the immediate question. The flags, armbands, and gas mask (and perhaps my use of symmetry?) are all representative of Nazism."
"But a majority of the recognizable models/symbols are American: MQ9 Reaper Drone, F22 Raptor, Sidewinder missile, security cameras, M60, SWAT uniform, General's uniform, the Supreme court, and the Lincoln Memorial. What's also American is the 1st Amendment, which I've unexpectedly succeeded in showing how we willfully squeeze ourselves out of that right every day."