Nicki Minaj Brings Fan On Stage, Boy Is So Excited He Can't Handle It
2 April 2015, 11:50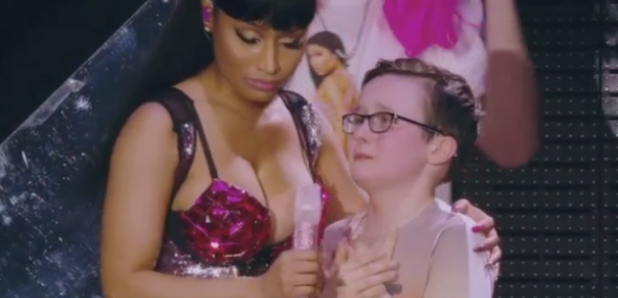 This video will give you life.
As Nicki Minaj continues her 'The Pinkprint Tour,' performing all over the UK after flying over from Paris, she continues to pull mega-fans on to the stage to share a special moment alongside her.
Last night (1st April) in Belfast was no exception. The 'Anaconda' singer asked a series of fans to join her in the limelight, but one in particular stole the show.
12-year-old Danny was visibly shaken as he joined Nicki in front of the 11,000 strong crowd on stage, breaking down in tears as he said; "I've been dreaming of this moment for so long."
Nicki gave him an appreciative hug, saying; "You gonna stay in school? Promise?" and as he left the stage he told her; "I don't care what anybody says - you are the Queen of Rap!"
On the weekend Nicki brought out special guest Jessie Ware to perform their collaboration 'The Crying Game' with her during her concert at London's O2 Arena.