Meek Mill Makes Example Of Tekashi 6ix9ine After Testifying Against Gang Members In Court
18 September 2019, 15:32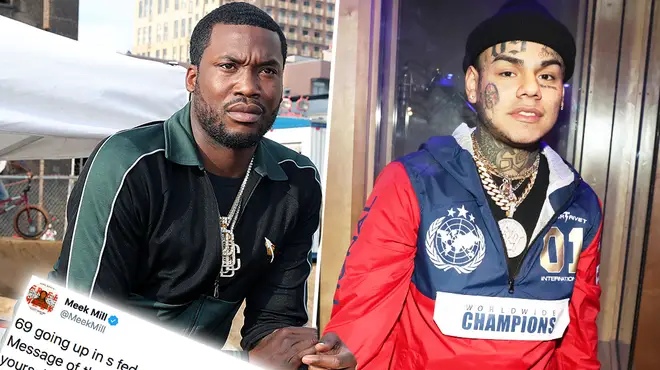 Philly rapper Meek Mill has taken to Twitter to let his fans know his view on Tekashi 6ix9ine's trial situation. Lil Durk also chimes in on 6ix9ine.
Meek Mill has not shun away from expressing his true feelings towards Tekashi 6ix9ine. The rapper recently commented underneath Snoop Dogg's post, calling 6ix9ine a "ratgoon".
The rapper took to Twitter earlier today after news came out that he exposed members of the Nine Trey Bloods gang. Meek often makes reference to 6ix9ine breaking street code and being a "snitch" - aka cooperating with police.
The Philly rapper took to Twitter to express how he feels ahead of Tekashi 6ix9ine's trial. "69 going up in [a] federal courthouse today kids!" Meek tweeted.
He continued "Message of the day don't be a Internet gangsta...be yourself! #cloutisnottheroute get money." Lil Durk also added his view on 6ix9ine's situation. He tweeted "F*ck 69 snitch K".
Before the court date, many reports alluded to 6ix9ine turning on his former fellow gang members, once he was indicted on federal charges.
Earlier this year, it was confirmed that Tekashi was set to testify against two men of Nine Trey Bloods Gang, after he made a deal with the authorities.
The court hearing, which took place yesterday (Sept. 17) resulted in Tekashi testifying against former members from Nine Trey Bloods Gang and who allegedly kidnapped the rapper. He also exposed Trippie Redd as a "gang member".
6ix9ine claimed he became a Blood in November of 2017. However, Tekashi claims he was never fully initiated.