Lil Wayne's 'Tha Carter V' Just Got A New December Release Date
30 October 2014, 11:14
Read why Lil' Wayne chose this photograph for his album artwork.
Update
After the 28th October came and went and there was still no 'Tha Carter V,' Lil' Wayne left us all wondering whether the album would ever drop. But the Young Money rapper has released a video announcing yet another new release date for the album.
Wayne has decided to release the album in two parts with 'Tha Carter V: Part One' coming on 9th December. There is yet to be a release date for Part Two of the album.
"I worked on way too much to give y'all just half of it. I refused to cheat my fans. I refused to cheat myself" Li' Wayne said.

"It's going to be crazy. You're going to love it because I f**king love it. If you don't f**king love it, then you don't f**king love love."

28/10/14
Lil' Wayne's 'Tha Cartver V' was suppose to be released today, however Young Money's president Mack Maine has confirmed that the album's release date has been pushed back, with no set date for when we can expect it yet.
Wayne has already put out singles 'Grindin' and 'Krazy' from the album, for which Maine has said they are working on a new release date.
15/08/14
Lil' Wayne has unveiled the official artwork for his upcoming album 'Tha Carter V', plus has announced that the disc will have a 28th October release date.
The artwork features an old photograph of Lil' Wayne as a toddler standing in front of his mother, Cita.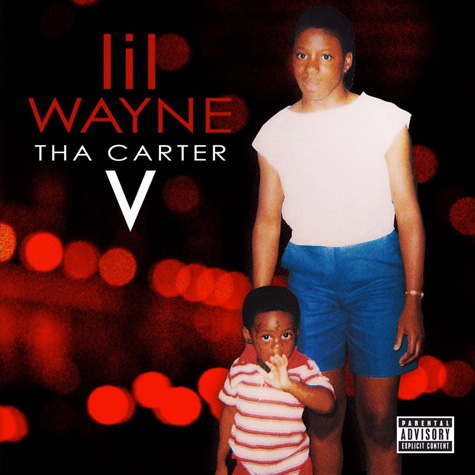 During the reveal on ESPN, Lil' Wayne told of how he used the photograph without telling his mum.
"I'm sorry mum. I know personally that she don't really like that picture of herself cause she's not looking in the camera" he said.
But the artwork is in keeping with other childhood photos found on his album covers.
"I always go with a baby picture and I wanted to go with one with my mum on it this time." he said. "This album means a lot to me. People been waiting on this album and I'm just at the point in my life and stuff to have my mum on there. It's more than an accomplishment, it's an achievement".