Why Was Kendrick Lamar's BRIT Awards Performance Muted?
21 February 2018, 22:14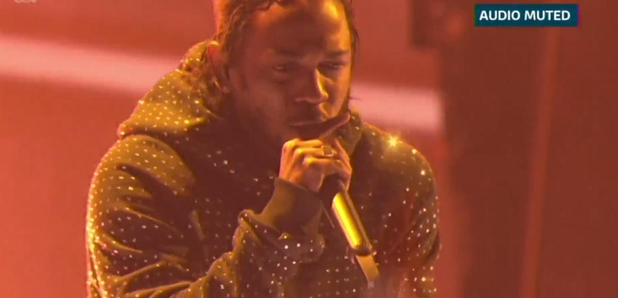 People are fuming.
Fans were left angry tonight after large chunks of Kendrick Lamar's BRIT Awards' performance of 'DAMN' track 'Feel' was muted.
The 'Humble' rapper appeared on stage at London's O2 Arena, but viewers at home were confused when the performance got off to an apparent delayed start - unsure whether it was an intentional part of the performance or a technical fault on BRITs end.
@BRITs Kendrick Lamar - was that a technical fault at the beginning? Not getting the performance at all. No point bleeping the swearing as no one will understand it anyway.

— JustMe (@craftykicks) 21 February 2018
Things soon got worse when large portions of Kendrick's performance were muted due to "offensive language", despite him performing just before 10pm, so after the watershed.
Fans took to Twitter to complain to ITV.
Wish itv would stop f*cking muting Kendrick !!

— JORDAN... (@94_JordanAV) 21 February 2018
Why are they muting Kendrick? It's nearly 10pm! pic.twitter.com/Yufdz92DKo

— Emz (@LazyGirlRun) 21 February 2018
Wow @ITV how am I supposed to enjoy Kendrick's performance when 80% of it is muted? #BRITs

— Jon Capistrano (@JonSenpaii) 21 February 2018
What the hell was going on at start of Kendrick Lamar's performance? Could he not hear the track? Sounded like it started again 3 times...#Britawards2018 pic.twitter.com/2GnDBPPCYP

— Katie Kat (@Katie_Kat84) 21 February 2018
Kendrick also performed 'New Freezer' on top of a glass cube as The Rich Kid smashed up a lamborghini with a baseball bat below.
The guy smashing up a Lamborghini during Kendrick Lamar's performance is actually hurting my soul
pic.twitter.com/XEvfeFoZ2n

— Sofea Nabila (@sofeanabila) 21 February 2018
Meanwhile, Kendrick Lamar won Best International Male at this year's BRIT Awards.