John Legend Stuns Londoners With Surprise Performance At St Pancras Station - WATCH
29 March 2017, 11:55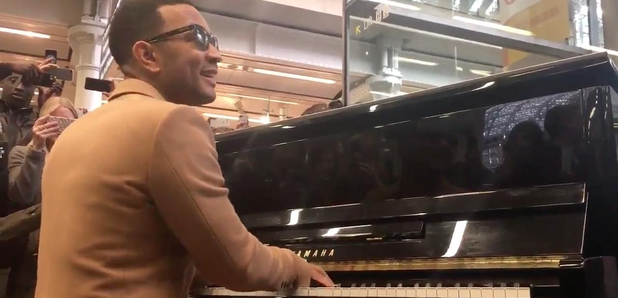 What a guy!
John Legend just performed an impromptu performance on the piano at London's St Pancras Station.
Passers-by couldn't believed their luck when the American R&B singer hit the keys to perform a number of his chart-topping hits including 'Ordinary People' and 'Surefire'.
Legend rounded off the performance with a stunning rendition of 'All Of Me'.
Watch the performance below:
Sooo @johnlegend just performed at St Pancras station pic.twitter.com/25BnbwP1YX

— Time Out London (@TimeOutLondon) March 29, 2017
The 38-year-old songwriter was swarmed by lucky members of the public who managed to capture the moment on their phones and cameras.
Prior to his arrival at the station, Legend teased his 9.1 million Twitter followers by asking if the famous piano was still there as he pulled in via Eurostar.
Arriving at London @StPancrasInt on @EurostarUK. Do they still have that piano there?

— John Legend (@johnlegend)March 29, 2017
And while many fortunate fans managed to catch a glimpse of the famous musician, others weren't so lucky.
Forlorn users took to Twitter to express their frustration at missing Legend's impromptu set.
AS IF @johnlegend did a pop-up performance at St Pancras station while I was in my flat in my pyjamas 5 mins away pic.twitter.com/KMpViIEN2B

— Tai. (@TaiAkira) March 29, 2017
Of course I'm in class near St. Pancras station and @johnlegend does a surprise performance #GetMeOutofClass

— Anisha (@anishaweimer) March 29, 2017
So @johnlegend is at St Pancras and I'm at uni pic.twitter.com/sSx0RI28gT

— Zee (@zarriiee) March 29, 2017
Why oh why did @johnlegend go to St Pancras today on my day off work ? Beautiful performance, totally amazing singer #jealous

— LittleMermaid (@Swimstar2000) March 29, 2017