Jhene Aiko accused of dissing Big Sean's ex Ariana Grande in new song lyrics
19 November 2019, 14:18 | Updated: 19 November 2019, 14:20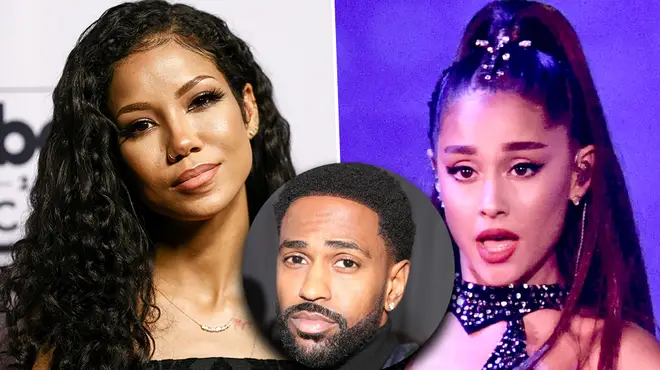 Singer Jhene Aiko has been accused of "throwing shade" at Big Sean's ex Ariana Grande in her new song 'None Of Your Concern'.
Jhene Aiko is back on the scene with her newly released song 'None Of Your Concern'. The 31-year-old singer has been accused of throwing shade at Ariana Grande on her new track.
Pop star Ariana Grande and rapper Big Sean were reportedly in a relationship from October 2014 to April 2015. Sean then moved onto Jhené Aiko in 2016. In 2018, fans believed the couple broke up when Jhene covered a tattoo of his face.
Jhene and Sean officially split in March 2019. However, Ariana and Big Sean were spotted together in public, which sparked rumours that they were making an effort to get back together.
In Jhené's 'None of Your Concern' lyrics, fans believe she references Big Sean and Ariana's alleged romantic reunion this year.
She sings: "I've been hearin' things and seeing things and so it seems you movin' on from me / Of course you on the scene with little miss thing, and trust me she really don't want beef".
Fans think that "little miss thing" is a reference to Ariana.
Prior to Ariana and Sean being spotted together, the "7 Rings" singer made several references to the Cali rapper.
In Ariana's thank u, next video she wrote that Big Sean "could still get it" in her burn book and people even speculated that her song 'break up with your girlfriend, i'm bored' was hinting at Big Sean dating Jhené.
See fans reactions to Jhene'snew song below.
Y'all really think Ariana Grande is worried about Jhene Aiko? LMFAO sis literally had Big Sean before Jhene, left him, and he went back to her after he left Jhene! Like what would she even wanna beef about??? Sis won full-circle

— Kenn (@wtfkenna) November 15, 2019
How Jhené Aiko going to call Ariana "little miss thing" as if she ain't a little miss thing herself??

— Kia no Soul (@PunIsBack) November 15, 2019
"Caught you on the scene with little miss thing and trust me she really don't want beef" - Jhene Aiko.

Ariana sweety just sit this one out, ok?

— Belle (@_IHeartBelleXo) November 15, 2019
Jhené Aiko said..."Caught you on the scene with "little miss thing" and trust me she really don't want beef!" She was most definitely talkin' about Ariana Grande 😂#noneofyourconcern 😅

— Jason Todd (@iiam_marv) November 18, 2019