J Cole Kept A Two Year Old Promise To Attend Fan's High School Graduation
26 June 2015, 11:16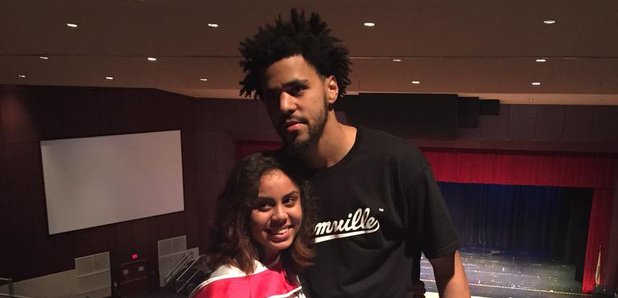 The North Carolina rapper rerouted his tour to meet fan.
J Cole visited a high school student's graduation after making a promise to the fan two years ago that he would be there when she graduated.
The 'Wet Dreamz' star, attended Cierra Bosarge's graduation ceremony at Washington Township High School following a letter he received from the student.
"You gotta dream like you never seen obstacles" #DreamsDoComeTrue @JColeNC pic.twitter.com/101xKjF3md

— I DID IT. (@princess_simba) June 24, 2015
Bosarge wrote to Cole in 2013, inviting him to attend. The North Carolina rapper replied, promised to come on one condition: "I will be at your graduation only IF you get into a 4 year University".
@princess_simba very much. keep going

— J. Cole (@JColeNC) February 14, 2014
The two kept in touch on Twitter with Bosarge sharing her progress. When she received offers from several colleges, Cole kept up his promise and traveled to meet her – even rerouting his tour.
@princess_simba i'm happy it all worked out for you. Had to route the tour around your graduation lol. You deserved it now keeping it going.

— Ibrahim H. (@KingOfQueenz) June 24, 2015
Cole even brought a few books as gifts and offered to help with the student's college fees.
he bought me a few books that he likes and he's said he's gonna help me with my college tuition.

— I DID IT. (@princess_simba) June 24, 2015
Hats off to J Cole, the realest rapper out there.