Iggy Azalea Accused Of Copying Cardi B's 'Money' With New Single
18 March 2019, 11:59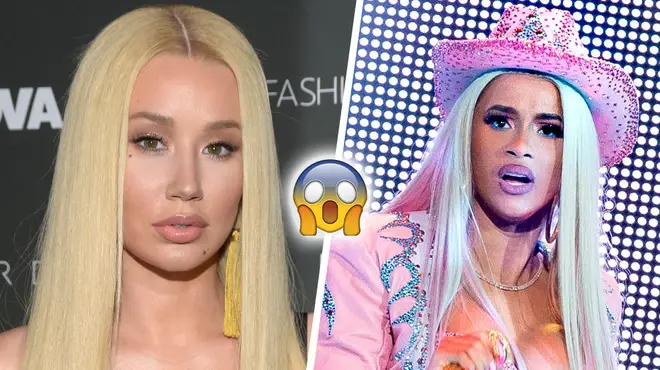 Some fans aren't impressed with Iggy's new song "Sally Walker" as they claim it sounds similar to Cardi B's "Money"...
Social media is in a frenzy over Iggy Azalea's new single "Sally Walker" and people from all over the world are realising one thing about the song. Fans have pointed out a very obvious similarity Iggy Azalea's new single "Sally Walker" to Cardi B's "Money". Within the first three seconds of listening to Iggy's single, fans claim the song resembles "Money" in relation to the beat.
"Sally Walker" is the go-to single for Iggy Azalea's forthcoming project In My Defense, which is allegedly going to be released in the not-so-distant 2019.
Iggy Azalea - Sally Walker (Official Music Video)
JWhiteDidIt, is the producer behind Iggy's "Sally Walker", who also is the producer who crafted Cardi B's "Money." It would appear that JWhiteDidIt checked things were okay with Iggy before signing off on the placement and giving the "go ahead".
Since Sally Walker debuted, Cardi B hasn't publicly responded to the song being similar to "Money". Although the beat sounds similar, the beat is a different BPM to Cardi B's "Money".
JWhiteDidIt took to Twitter to defend Iggy when a fan assumed Iggy went to a producer and asked for a Cardi B Money remake.
JWhite who also produced Cardi B's breakout hit "Bodak Yellow" even acknowledged the similarity to "Sally Walker" in his response to a Tweeter who suggested both songs were due for a mashup. What do you make of the likeness, comment below?
JWhiteDidIt revealed that he had to tailor the "Money" beat to Cards B's liking and personal preferences. He told Complex, "If you can't tell, she likes her beats to rock a certain way,". He continued :"Since I first worked with her to now, she knows how she likes her hi-hat."
iggy's song is literally a mix of money with humble

— i'm baby (@tyler_dvrden) March 15, 2019
Although the producer has come forward and defended Iggy, fans are still going off on her for having a track that sounds like Cardi B's "Money".