Angry Activists Demand Iggy Azalea Apology After Animal Cruelty Allegations
17 November 2016, 15:35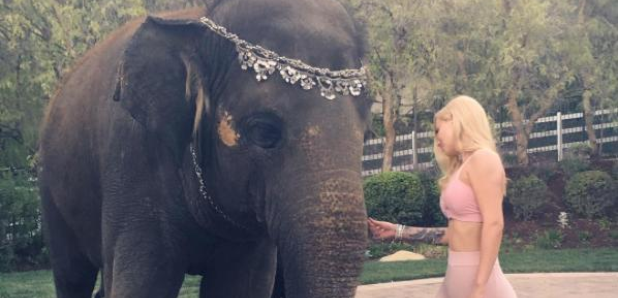 A petition has been filed after Iggy posed with a captive elephant.
Iggy Azalea is being urged to apologise after posing alongside a captive elephant, following animal cruelty allegations.
The Australian rapper took photos next to the animal, which was hired by rumoured boyfriend French Montana to perform tricks at his birthday party.
Iggy was soon bombarded by animal activists on Instagram after seeing a photo of the chained animal appear on her account.
Since then, an online petition by Care2 Petitions has been created, urging Azalea to apologise for posing with the elephant, and suggesting she donate to an animal charity.
'Let's be clear - exotic animals are not sideshow attractions or birthday party entertainment.' the petition reads.
'Iggy Azalea should use her platform to encourage education on animals, especially elephants, who face grave threats from human intervention in the wild.'
The petition already has almost 13,000 signatures, with the total growing by the hour.
French Montana was also called out on social media, with one twitter user labelling his actions as 'horrible':
@FrencHMonTanA elephants lives matter that's so horrible miss treat these gentle creatures for the benefit for your jollys smh wow

— Frankie (@frankie_509) November 9, 2016
French soon responded, claiming that he had no idea about the elephant before the party:
Shut yo ass up that elephant was a surprise for my bday in my yard when I walked out and was from the zoo and people that take care of it https://t.co/4xYembikJO

— French Montana (@FrencHMonTanA) November 9, 2016
Iggy is yet to respond to the petition or the animal abuse claims.