Future Responds After 6th Baby Mother Claims He Wants Her & Her Unborn Baby "Dead"
26 November 2018, 11:12
A sixth woman, Eliza Reign, has come forward as the mother of the 'Mask Off' rapper's child, and has claimed that Future has "put money on her head."
Future has been accused of threatening the life of a woman who is allegedly carrying his sixth child.
Eliza Reign, a model and Instagram star, detailed in a lengthy Instagram post her alleged two-year relationship with the 'Mask Off' and claims to be pregnant with his baby.
Reign accused Future of wanting nothing to do with the child and urged her to terminate her pregnancy, which she did not. She says Future and his team then began threatening her.
"I got call from someone telling me to 'be careful I heard Future want yo head,'" she wrote, adding that the threats made her quit her job out of fear. The post has since been removed by Instagram, but you can read it here.
"It's sad to think a person I laid up with for years would put a price tag/value on my death and THE DEATH OF THEIR UNBORN CHILD."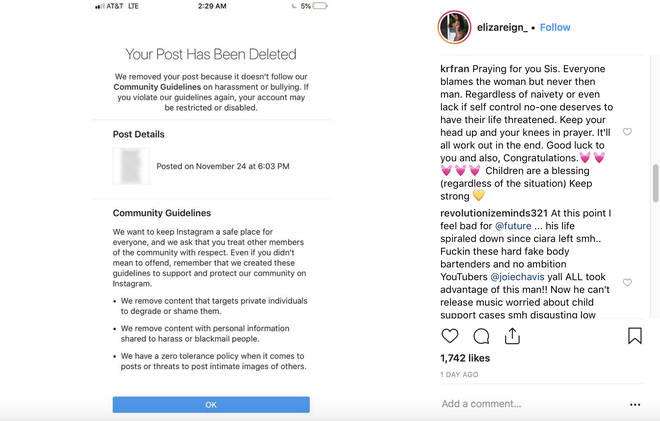 Reign claims that Future called her a "scammer" and a "h*e", and has been bouncing between hotels "for weeks" because she's too scared to go back to her home.
In response to the shocking claims, Future took to Instagram to slam Reign's statement. "It's an evil world we live in, but hey, I'ma keep living," he said. "When these racks blew, motherf*ckers do whatever for this shit."
Future already share four children with four different women - including a son with his former fiancé Ciara - and has another on the way with his ex-girlfriend Joie Chavis.