Future's Collab With UK Drill Rapper DigDat Teased In New Video
28 May 2019, 12:07 | Updated: 20 February 2020, 17:19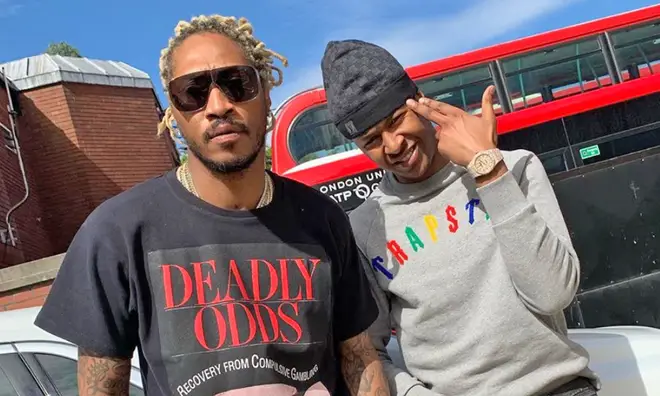 Future appears to be jumping on the UK Drill wave after DigDat posted a teaser on Instagram reportedly showing a collab between the rappers.
Rap star Future is now newcomer when it comes to collabs - the 'Mask Off' rapper has worked with pretty much everyone in the game, including his much-loved mixtape 'What A Time To Be Alive' with Drake.
However one thing Future hasn't done is collaborated on a song with any UK artists, although a new teaser posted by Drill rapper DigDat appears to show that has now changed.
As you can hear in the video above, which DigDat posted on to his Instagram story recently, Future's flow works just as well over a UK Drill beat as it does over his usual US rap beats and it's sure to be a banger.
Whilst there's no details on what the Future X DigDat song will be called, the 'Guten Tag' star post a picture onto his Instagram throwing more weight behond the collab rumours.
Posing next to Future somewhere in London, DigDat captioned the snap with one of Future's most famous lyrics taken from his song 'Mask Off' - "Chase A Cheque Neverr , Chase A B**chh".
DigDat was also the face of Drake's upcoming clothing collab with popular brand DSquared2. The Drill rapper could be seen in a promo video wearing the highly sought after clothes from Drake's OVO label an their DSquared2 collab.
Given the fact that Drake and Future are such close friends, the whole link up is now starting to make sense and we can't wait to hear it in full!
> Download Our Free App For The Latest Music News!