Future Accused Of "Toxic Masculinity" After Viral "Nude Women" Video Resurfaces
16 September 2019, 17:11 | Updated: 16 September 2019, 17:13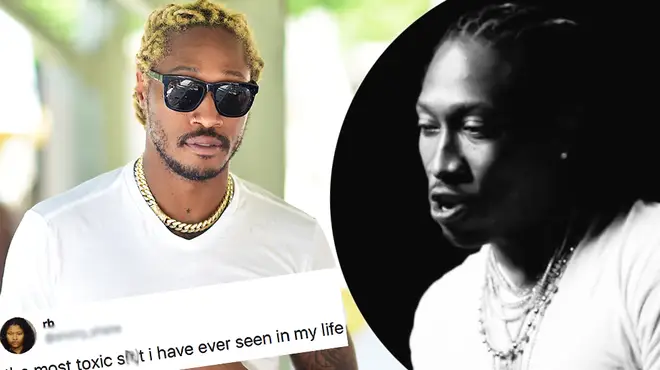 Rapper Future has come under scrutiny as an old music video resurfaces and goes viral. The rapper has been accused of "toxic masculinity" for the lyrics and visuals to the video.
Future has been slammed by fans over a resurfaced clip from his music video for "My Collection", which has recently gone viral.
The rapper has recently come under scrutiny for a music video he released in 2017, which features a variety of nude women, who he suggestively refers to as his "collection".
Although the music video was released back in July 2017, it has resurfaced online. A clip went viral after a Twitter user captioned the video "the most toxic sh*t i have ever seen in my life".
The clip shows the 35 year-old rapping the lyrics "Before I tell a lie, won't tell you nothin'/Any time I got you, girl you my possession/Even if I hit you once, you part of my collection".
The Atlanta rapper raps those lyrics while multiple topless nude women are hurdled around the rapper.
Fans have argued that it seems as though Future is looking at women as just a collection to admire, to make him look good. Fans believe Future is just objectifying the women.
Many fans have accused the rapper of displaying "toxic masculinity" - traits such as misogyny and believing he's authoratitive, dominant and overpowering man. See fans reactions below.
I just want to know how Ciara was w him at any point 🤔

— 🌪🌪 (@silentxsolacex) September 16, 2019
He basically doesn't see them as human but objects

— Naima (@Naima59124636) September 16, 2019