Eminem Unveils The Full Tracklisting For 'ShadyXV'
30 October 2014, 10:53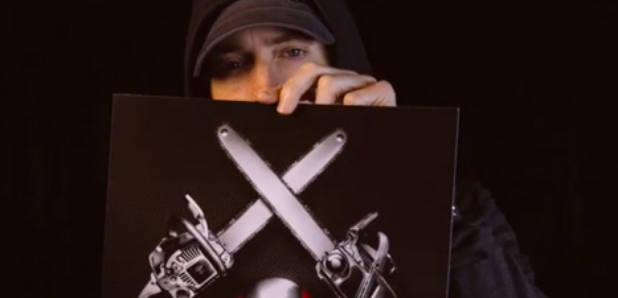 Featuring new music from Sia and D12 and some 50 Cent classics.
Eminem has unveiled the full tracklist for his forthcoming album 'Shady XV.'
The new album, due for a 24th November release, features all new tracks on disc one. Alongside Eminem and Sia's recent collaboration on 'Guts Over Fear' there will be new material from D12, Big Sean, more Eminem plus more artists.
On the second disc you'll find some of the biggest hits released through 'Shady Records' including 50 Cent's 'In Da Club,' D12's 'Purple Pills' and Eminem's 'Lose Yourself.'
Check out the full tracklist for 'ShadyXV' below:
DISC 1
1. Eminem – 'ShadyXV'
2. Slaughterhouse – 'Psychopath Killer' (feat. Eminem and Yelawolf)
3. Eminem – 'Die Alone' (feat. Kobe)
4. Bad Meets Evil – 'Vegas'
5. Slaughterhouse – 'Ya'll Ready Know'
6. Eminem – 'Guts Over Fear' (feat. Sia)
7. Yelawolf – 'Down'
8. D12 – 'Bane'
9. Eminem – 'Fine Line'
10. Skylar Grey, Eminem, and Yelawolf – 'Twisted'
11. Eminem – 'Right for Me'
12. Eminem, Royce Da 5'9', Big Sean, Danny Brown, DeJ Loaf, and Trick Trick – 'Detroit Vs. Everybody'
DISC 2
1. 50 Cent – 'I Get Money'
2. D12 – 'Purple Pills'
3. Eminem – 'Lose Yourself'
4. Obie Trice, Kuniva, Bobby Creekwater, Ca$his, and Stat Quo – 'Cry Now (Shady Remix)'
5. Yelawolf – 'Let's Roll' (feat. Kid Rock)
6. Slaughterhouse – 'Hammer Dance'
7. 50 Cent – 'P.I.M.P.'
8. Eminem, 50 Cent, Ca$his, and Lloyd Banks – 'You Don't Know'
9. D12 – 'My Band'
10. Obie Trice – 'Wanna Know'
11. 50 Cent – 'Wanksta'
12. Obie Trice – 'The Setup' (feat. Nate Dogg)
13. 50 Cent – 'In Da Club'
14. D12 – 'Fight Music'
15. Yelawolf – 'Pop the Trunk'