Eminem Raps About "Beating Rihanna" & "Siding With Chris Brown" In Leaked Song
5 November 2019, 10:39 | Updated: 5 November 2019, 10:42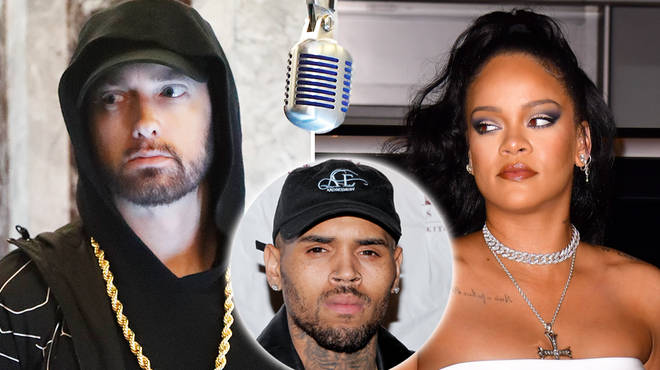 A snippet of Eminem's verse reveals the rapper saying he sides with Chris Brown in the 2009 physical assault of singer Rihanna.
Eminem has received backlash online, after a snippet of a leaked verse from reveals that he sides with Chris Brown, while seemingly talking about the physical assault of Rihanna.
Chris Brown and Rihanna began dating in 2008, but a year into their relationship, unfortunately ended badly with Brown physically assaulting the Barbadian singer.
Brown pleaded guilty to one count of felony assault against the "Work" singer in 2009.
According to The Insider, Eminem raps ""Of course I side with Chris Brown, I'd beat a b**ch down too" which is reportedly from the recording sessions for 2009's Relapse.
Eminem unreleased verse where he says he sided with Chris brown and would beat a bitch ( Rihanna ) too if she gave him an itch 😦 and he still went on to collab with Rihanna after pic.twitter.com/angoJdMLpo

— Toujay (@Toujay1) November 4, 2019
Although the song did not make the Relapse album, another version of the track progressed into into B.o.B.'s 2011 track "Things Get Worse".
Many of Eminem's fans were quick to defend the Detroit rapper on social media, claiming the song was recorded in 2007, before the assault involving Chris Brown and Rihanna took place.
However, other social media users are shocked and disgusted with Em's lyrics.
Some fans claim that even if Em is not directly talking about Brown assaulting Rihanna, it's still promoting abusing women.