Eminem's Manager Responds To Backlash Following 'Gunshot' Sound Effect On Stage
12 June 2018, 10:39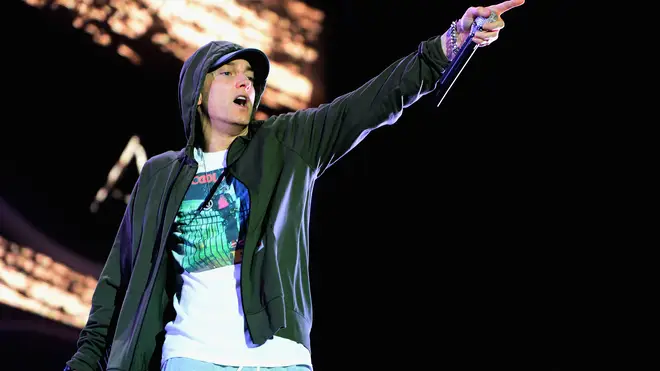 The rapper was criticised for his performance at Bonnaroo festival.
Eminem's manager has responded to reports that the rapper used 'gunshot' sound effects during his performance at Bonnaroo Music and Arts Festival on Saturday (9th June.)
Fan-shot footage of the set shows the crowd's reaction to multiple loud gunshot-like sounds which blasted through the speakers, scaring concertgoers. One witness claims "the whole crowd ducked" in response to the sound.
Following the controversy, Eminem's manager and CEO of Def Jam recordings Paul Rosenberg has denied that the sounds were meant to imitate gunshots, adding that the sound was 'pyrotechnic concussion'.
"Contrary to inaccurate reports, Eminem does not use gunshot sound effects during his live show," Rosenberg wrote on Instagram. "The effect used by Eminem in his set at @bonnaroo was a pyrotechnic concussion which creates a loud boom.
"He has used this effect — as have hundreds other artists — in his live show for over 10 years, including previous US festival dates in 2018 without complaint."
At the time, people were quick to address the incident on social media and express their disappointment in the 'Walk On Water' rapper's performance.
"Honestly, f*ck Eminem. Added gunshots to his set. Had to leave. So disgusting and distasteful. Shame on you." wrote one user.
"I was having a good time at Eminem's set then he played a realistic gunshot noise. the whole crowd ducked and i've never felt more traumatized and ready to panic. completely inappropriate" recalled another.
Literally just lost all respect for @Eminem . You're seriously gonna set off gunshots at a festival?? Literally so many people were scared and left the set immediately... i know you haven't performed in forever but keep up with the current issues dude.

— Shelbie R Houseman (@ShelbieHouseman) June 10, 2018
coming from a performing stand point, i get the effect of sound effects on stage, but there's a certain point that cross's the line. i'm one of eminem's number 1 fans but to hear 3 gun shots coming straight from his set had me scared af. not gonna lie. especially in this world...

— M (@macykatemusic) June 10, 2018
Eminem is yet to personally respond to the controversy.