Machine Gun Kelly Trolls Eminem By Performing 'Rap Devil' Diss Track In His Hometown - WATCH
4 June 2019, 11:05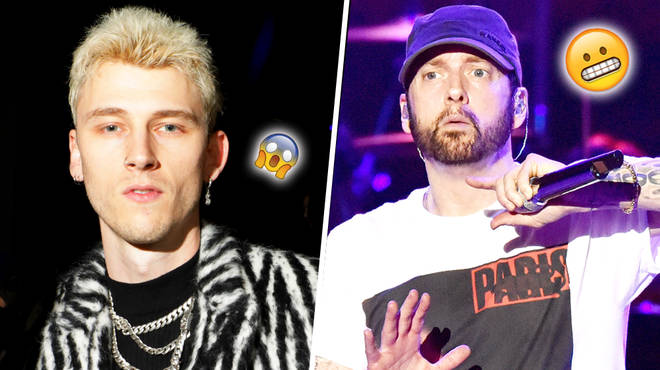 Machine Gun Kelly opened his Hotel Diablo Tour with a bold move. MGK performed his Eminem diss "Rap Devil" in the rappers own hometown of Detroit.
Machine Gun Kelly began the first show of his 'Hotel Diablo Tour' with a very bold statement. On Saturday (Jun 1st), the Cleveland rapper performed his Eminem diss, "Rap Devil" in Detroit, which is Eminem's hometown.
Eminem proudly represents for his hometown and has continuously made it be known that he loves Detroit. With that being said, MGK took a low blow at the rapper by performing his diss track towards Eminem in his hometown.
Two days after the performance (Jun 3rd), the "Lately" rapper took to Instagram to post a video of him performing "Rap Devil".
In the video clip he posted, MGK raps:
"Somebody help your mans up (help)/Knees weak of old age, the real Slim Shady can't stand up." For those that didn't know, the bar is a reference to Em's 2000 song "The Real Slim Shady."
The rapper captioned the video clip with a cheeky caption, writing: "never forget. I love u DETROIT" with the purple devil emoji.
The rap beef started in August 2018 when Eminem dissed MGK on his Kamikaze track "Not Alike". He dissed MGK because he felt as though Kelly dissed him on Tech N9ne's song "No Reason".
MGK then made a full diss track "Rap Devil", dedicated to Eminem, where he called him an old insecure man with rubbish lyrical skills. Eminem responded to Kelly with "Killshot".
Since the rap beef, the rappers have dissed each other with cusses during their shows. During Eminem's February concert in Australia, he called Kelly a "cocksucker".
Now, Kelly has fired back by performing his diss track for Em, in his own hometown.