These People Are Still Waiting For Eminem To Do The Ice Bucket Challenge
21 August 2014, 18:16 | Updated: 21 August 2014, 18:23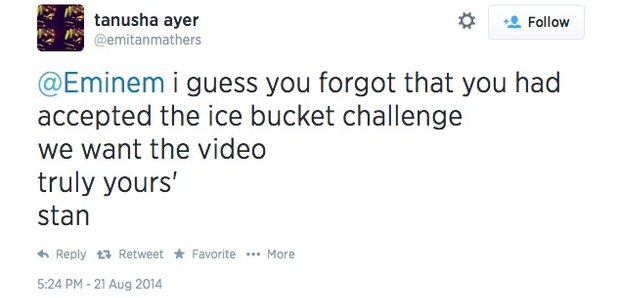 Will the real Slim Shady please throw an ice bucket over his head already?
Dr Dre challenged Eminem to do the Ice Bucket Challenge.
Eminem accepted Dr Dre's challenge.
.@drdre I accept your challenge, Andre

— Marshall Mathers (@Eminem) August 19, 2014
But still, no bucket of ice has been thrown over Eminem's head...
And people are getting a bit impatient about it.
At the 24 hour mark people started getting shifty.
24 hours after passed and eminem still hasn't done the ice bucket challenge.

— Gerson R. (@ThisDopeKid) August 21, 2014
Did Eminem forget this really important challenge that he had just accepted?
@Eminem i guess you forgot that you had accepted the ice bucket challenge we want the video truly yours' stan

— tanusha ayer (@emitanmathers) August 21, 2014
Waiting.
me waiting for Eminem's ice Bucket challenge #MTVHottest Eminem pic.twitter.com/mq30hxHJw8

— Can't Leave DƎroit (@mmlp2era) August 21, 2014
This seems like a realistic prospect at this rate.
the year is 2038, eminem still hasn't posted the ice bucket challenge video

— صيتة السديري (@Sitahalsudairy) August 21, 2014
Bringing up past mistakes is not going to help this situation.
we're waiting for @Eminem ice bucket challenge but remember he said he's going to do a song called 'My Salsa' 10 years ago & still waiting.

— Bella (@persemprem) August 21, 2014
IT'S EMINEM FOR GOD'S SAKE.
Of course eminem is gonna take his time to do the ice bucket challenge

— E (@op_9299) August 21, 2014
Can't imagine that demands go down that well with Eminem.
@Eminem I'm still waiting for your ice bucket challenge video!! both Dre and Mark Wahlberg nominated you! upload the video now!

— • shady's baby • (@britbritsslave) August 21, 2014
Fans are dropping like flies Eminem, hurry up.
waiting for eminem to make the #IceBucketChallenge video ... pic.twitter.com/NrxOJXZWHe

— hehe (@DPodrimqaku) August 21, 2014