DJ Khaled And Future Performed On Jimmy Kimmel And No One Understood A Word Future Was Saying
14 January 2016, 10:36 | Updated: 14 January 2016, 10:51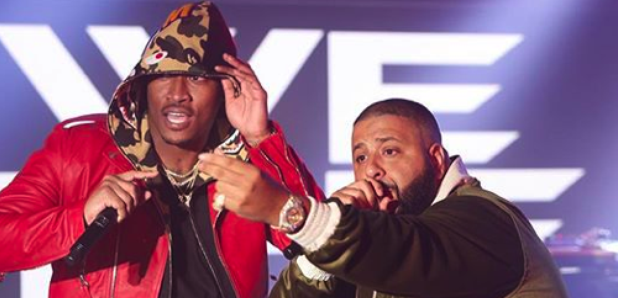 Can you make out what Future's on about?
DJ Khaled put on a high energy performance last night on Jimmy Kimmel live. The Snapchat king kicked things off by performing his hit song 'All I Do Is Win' before Future joined him on stage.
Khaled joked; "They don't want me on Jimmy Kimmel, so i'mma make sure i'm on Jimmy Kimmel!"
The two went on to perform a medley of songs including 'I Don't Play About My Paper,' 'You Mine' and 'Jumpman.'
Some fans on Twitter weren't impressed with the performance, commenting that it was near-impossible to understand what Future was saying during his verses.
Me watching jimmy kimmel trying to figure out what future is saying pic.twitter.com/080uMF4jUS

— Baeless in Seattle (@mesa_mese) January 14, 2016
What the fuck is future saying #Kimmel

— 15360x8640pixels (@OccultCarlitoss) January 14, 2016
Future is the first artist to lip sync & you still not be able to understand what he's saying. #Kimmel

— Kevin (@FiyahMuZik) January 14, 2016
I'm watching future live on Jimmy Kimmel and I literally can't understand a word he's saying

— Dee Williams (@darilliams) January 14, 2016
I have no idea what the hell Future is saying..... #Kimmel

— Natalie Guerrero (@Natalie_GroMdz) January 14, 2016
Future on Jimmy Kimmel right now and honest to god I didn't understand one word he said.

— Patrick Leahy (@_patrick_leahy) January 14, 2016
Can you understand what Future is on about?