Did Beyoncé Just Use Instagram To Tell Us She's Pregnant?
12 January 2015, 11:20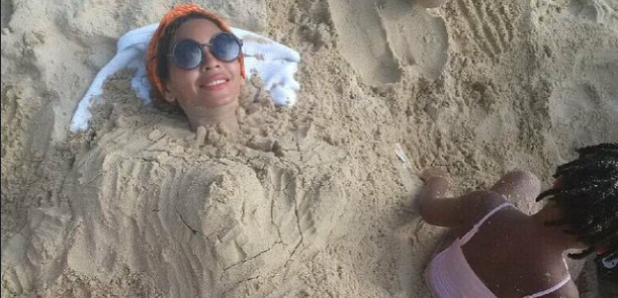 Beyoncé just posted a photo on Instagram that's got the world speculating over whether she's pregnant again.
"Beyoncé's pregnant" is a rumour that comes around so often that most people have stopped paying any attention to it. But last night (11th January) the pregnancy whispers went in to overdrive when the '7/11' singer posted an obviously suspicious photo on her Instagram page.
In the photo, which has been liked over one million times, Beyoncé is seen buried on the beach with a new figure that has been sculpted from sand and she's been given a noticeably pregnant-shaped belly.
Blue Ivy, who just celebrated her third birthday, is seen playing in the sand beside her mum.
So, is Beyoncé really pregnant? Here's what Twitter thinks.
Beyoncé is definitely pregnant.

— (@iLoveShante) January 12, 2015
Hasn't Beyoncé been pregnant since like last summer?

— ♚natty (@xxnataliebates) January 12, 2015
Wait is beyonce pregnant ?

— Coco (@Yazmeann__) January 12, 2015
everytime i get excited about beyonce being pregnant turns out she aint even pregnant and im not gonna go through that disappointment again

— ***lauren (@16styIes) January 12, 2015
Beyoncé can't just say she's pregnant, she has to do some special kryptonite message init? Sknnn, well when u wana stop actin up let us know

— Lil Kimberly (@ajcbs) January 12, 2015
Beyoncé could spill water on her crotch and the media would be like "IS BEYONCÉ HINTING TO US SHE'S PREGNANT AGAIN"

— Ryan Shaw (@tinopai) January 12, 2015