Tory Lanez Wants Beef With Pusha T Following Joyner Lucas Rap Battle
22 November 2018, 12:57
The 'Love Me Now?' rapper is currently embroiled in a rap battle with 'Lucky You' rapper Joyner Lucas, but he's not stopping there - Lanez is after smoke with none other than Pusha T.
Tory Lanez is confident that he could beat Pusha T in a battle of the bars. The 'Love Me Now?' rapper is ready to take on the 'The Story Of Adidon' star following his ongoing rap beef with Joyner Lucas.
Lanez has been going back-and-forth with the 'Lucky You' rapper on a series of vicious freestyles over each others beats. On Wednesday (21st Nov), Lanez dropped his Joyner Lucas diss-record, 'Litty Again', to surprise acclaim.
DJ Akademiks later took the battle to Instagram, asking his followers whether or not Tory could take on Hip-Hop heavyweight Pusha T.
"Na bruh.. after hearing that last Tory song.. he feeling himself too much lyrically.. we need someone to humble him," Akademiks wrote. "If he battled PUSHA T. Who y'all think would win????"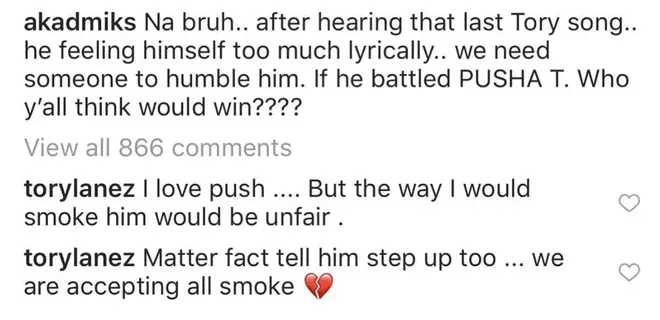 In response, Tory accepted the potential offer, but claimed that the fight would be unbalanced. "I love Pusha… but the way I would smoke him would be unfair" Tory wrote, efbore asking Pusha to step int the ring.
"Matter of fact, tell him to step up too… we are accepting all smoke," he wrote with a love heart emoji. King Push is yet to respond to Tory's offer.
However, fans will recall the aftermath of Pusha's savage Drake-aimed diss track earlier this year, so Tory isn't asking for an easy fight.
The Toronto rapper's beef with Lucas is yet to simmer down, however, after Lucas kicked off the challenge on Monday.
Tory Lanez - Litty Again Freestyle (Official Audio)