Eminem Announces Special Guests For London Wembley Stadium Gig In July 2014
16 May 2014, 09:41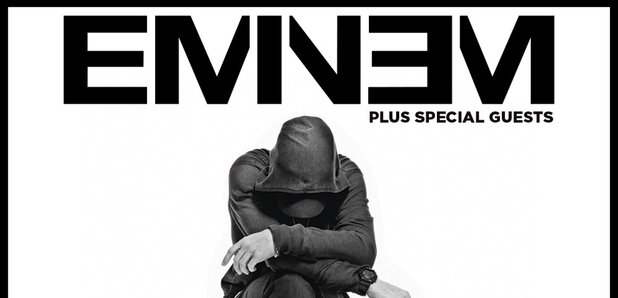 After rumours of Hyde Park, Slim Shady will actually be performing at Wembley Stadium this summer.
Update
Eminem has announced that special guests joining him for his two shows in London's Wembley Arena in July will include Tyler The Creator, Earl Sweatshirt and hip-hop collective Odd Future.
The rapper released a video on Instagram in which Tyler The Creator said; "Me and Earl Sweatshirt and the rest of Odd Future are gonna be with Marshall in London on two shows before he goes on."
Em will hit the Wembley stage for two nights only on 11th and 12th July.
Watch the video announcement below.
Update
Eminem has added an extra concert date at London's Wembley Stadium as tickets for the recently announced show have sold out since going on sale at 9am this morning (Friday 9th May.)
Following his 11th July show, Eminem will now be performing with "special guests" on Saturday 12th July also. Tickets for the second date are on sale now. Visit www.TicketMaster.com for more details.
6th May 2014
There had been rumours that Eminem was set to play Hyde Park this summer, but the rapper has now confirmed that he will perform at London's Wembley Stadium on 11th July. He will be the first ever rapper to headline the venue.
There are no further details confirmed, but a poster suggests special guests will be performing at the concert, which follows the release of Eminem's 'The Marshall Mathers LP 2' album.
In America this summer Eminem is set to tour with Rihanna.
Tickets go on sale this Friday 9th May at 9am.