Kim Kardashian Calls Out Kanye West Fan Who Customised Yeezy Boosts, Says They're "Fake"
6 March 2015, 16:42 | Updated: 31 March 2017, 20:21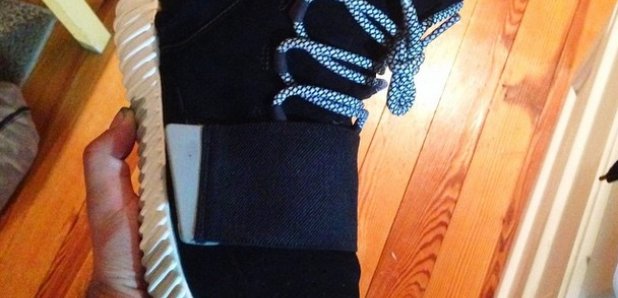 Here's the full story.
A fan who customised his new Yeezy Boost trainers has been told by Kanye West's wife Kim Kardashian that they are "fake".
Ben Baller shared a picture of his custom black Yeezy Boosts on Instagram, prompting fans to speculate that this might be the first pair of black Boosts, which are currently only available in grey.
Kim then joined in the debate, commenting on Baller's Instagram post: "They don't come in black. These are fakes."
But Baller quickly clarified that they are genuine - they had just been customised black by Instagram user D_Preme.
D_Preme, a friend of Baller's, has since shared more photos of the shoes in question.
He wrote: "The pair thats caused a lot of controversy. Just wanna clear the air real quick bc this is too much. Yes this is a custom. Yes i did it all by hand and yes im proud of the outcome. Especially being daring enough to be the first person to alter the yeezy boost. As for @benballer im just thankful that hes supported my work and grind from the get. Stop hating and creating drama. Lets just enjoy the work for what it is. This project has made me so appreciative for people like @mache275 and @noldoscustoms for giving us the motivation to make things happen artistically. It is what it is. This was fun, but the next step is giving these away."
The Yeezy Boost is the part of Kanye West's collaboration with Adidas Originals.