Everything We Know About Jay Z's Exclusive '4:44' Puma Sneakers
24 August 2017, 12:22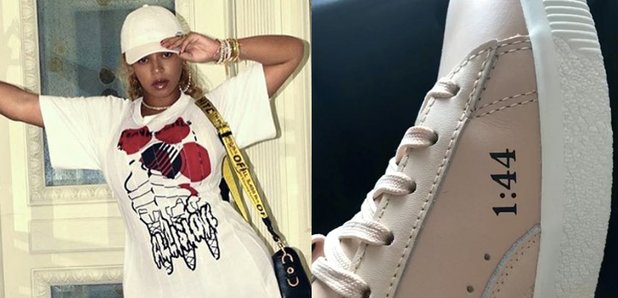 Beyonce was seen rocking a pair of the super rare shoes on Instagram.
There's a reason why the Internet got talking after Beyonce was spotted rocking a brand new pair of baby pink trainers this week.
In Queen Bey's latest Instagram photo montage, the 'Lemonade' star can be seen posing in a crisp white tee and a fresh white cap, adorned with jewels on her wrists and ears.
Set to her husband's new track, "Caught Their Eyes (feat. Frank Ocean)" from his latest album, '4:44', the video also shows the singer to be wearing an exclusive pair Puma Clyde trainers - designed by Jay Z himself.
The peach-colored creps feature the album's tracklist printed on the inner sole and '4:44' album barcode embossed on the side.
There are, quite aptly, only 44 pairs of the super rare shoe in circulation, with Bey's pair allegedly being number 1 of 44, and were only distributed to close family and friends.
Hov's new creations haven't been released to the general public yet.
However, after a Tidal x 4:44 and Puma collaboration was confirmed to Billboard less than a month ago, it may only be a matter of time before you can get your hands on a pair.