Happy Songs Playlist: 22 Songs To Make You Smile
22 April 2016, 16:14 | Updated: 11 May 2017, 16:02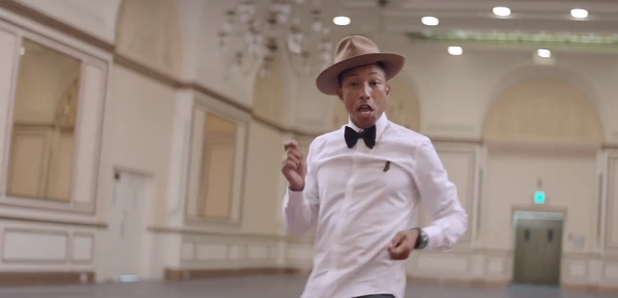 Guaranteed pick-me-ups
Sometimes we all need a bit of a pickup and what better way to do than by drowning all the bad vibes out with some jams. The following tunes are near-guaranteed to raise your spirits and get you back to wanting to dance at your desk rather than bang your head on it.
Pharrell - 'Happy'
It does what it says on the tin, doesn't it.
Kevin Lyttle - 'Turn Me On'
An absolute soca classic. Is there really any better form of good times music than soca?
Mary J Blige - 'Fine'
'Fine' was inspired by a particular good day that Mary J Blige was having. "That song was written based on me having a good day," explained Blige, "You know, I can have 20 bad days. I can have as many bad days as anyone. But I choose to say, 'I'm just fine.' Right now. So it's OK to have those days. So instead of coming with something ungrateful to the universe, how about I come with something first that's says, 'You know what? It's OK. Enjoy this day if you're having a great day."
Nelly - 'Ride Wit Me'
The track that put Nelly's hometown of St. Louis on the map, 'Rid Wit Me' is an unquestionable banger.
Outkast - 'Hey Ya'
Weirdly for such a joyous song, 'Hey Ya' is actually about futility of finding everlasting love. "If what they say is "Nothing is forever" / Then what makes - then what makes / Love the exception?" Andre 3000 raps in the song. Still, that hasn't stopped the track being played out at many a wedding reception. But, as Andre says in the song: "Y'all don't want to hear me, you just want to dance".
Will Smith - 'Summertime'
This song is so summer that there was no summer before it was recorded, we were just living in a perpetual winter before it arrived.
Kanye West - 'Good Life'
Kanye has a knack for a celebratory anthem. This one comes at a mid-point in his career on 2007's 'Graduation' just as he's beginning to really cement his place as one of the greats. After years of struggling to make it with his solo career he'd found fame with 'The College Dropout' just as few years previous, giving this song some personal significance.
Notorious B.I.G. - 'Mo Money Mo Problems'
Fame and money don't necessarily solve all your problems, as Biggie attests to on his classic 'Mo Money Mo Problems'. That said, it can make life a bit easier...
Alesso - 'Cool'
Swedish producer Alesso's 'Cool' has a soaring chorus that, true to the song's lyrics, is near impossible to not start dancing to. Or at very least, wriggling around in your seat a bit.
Bruno - 'Uptown Funk'
Architechs - 'Body Groove'
A classic UK garage cut here, released all the way back in 2000. It's still turning up dancefloors 15 years on.
Fuse ODG - 'Azonto'
Afrobeats, another genre that is just made for dancing and good times, quite literally in this case as Fuse's track is based around a dance move he created.
R Kelly - 'She's Got That Vibe'
This track is guaranteed to give you the vibe.
Melissa Steel - 'Kisses For Breakfast' feat. Popcaan
Okay, okay, it is a pretty sickly sweet hook, we admit, but the song's dancehall influence and Popcaan feature make this a banger.
Usher - 'Pop Ya Collar'
Another classic, this one from the early days of Usher's career while he was still just one of Puff Daddy's protégés. Still goes off in the dance.
Omi - 'Cheerleader'
'Cheerleader' propelled Omi from being an almost unknown artist to a record-breaking hitmaker. It's 2015 surprise song of the summer.
Beyoncé - 'Crazy In Love'
In our top five Beyoncé songs of all time for sure, 'Crazy In Love' is also one of the greatest songs written about being lovestruck.
Snoop Dogg - 'Beautiful'
God bless the Neptunes. Coming in 2003 at the height of Pharrell William's and Chad Hugo's production powers, 'Beautiful''s simple guitar-strummed beat and falsetto-sung hook is a perfect example of why the two ruled the pop charts.
Magician - 'Sunshine'
Belgian producer Stephen Fasano, better known by his stage name The Magician, has conjured up a banging house track featuring vocals from Years & Years.
Calvin Harris - 'Summer'
Hmm this song feels quite seasonal, doesn't it? We can't quite put our finger on exactly what time of year it might be best to listen to this though. Any ideas? If only the producer had given us some idea of his intention. Oh well, guess we'll never know. Still, good song, isn't it.
SWV - 'Right Here'
Properly old skool this. SWV (Sisters With Voices) released this hit back in the early 90s, though the trio had disbanded by the end of the decade they became one of the best selling girl groups of all time.
Jamie XX - 'I Know There's Gonna Be (Good Times)'
Perhaps its in the name? or the upbeat bouncy production? But Jamie XX has cooked up an amazing uplifting house anthem featuring Young Thug and Popcaan.