Halloween Songs Playlist: The 15 Best Tracks To Play At Your Halloween Party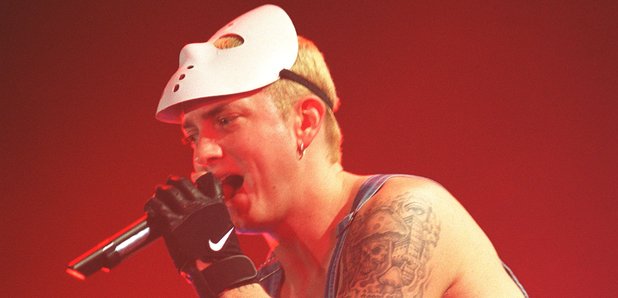 We round up all the Hip Hop Halloween songs you need to send a serious chill down partygoers spines.
If you're in need of some spooky songs to get your Halloween party started this fright night, don't worry, we've got you covered.
We've rounded up Hip Hop's scariest tracks, from Whodini's 80s spook songs all the way up to Rihanna and Eminem's hit song 'The Monster.'
This Halloween playlist is sure to make your trick or treaters run for their lives.
Eminem Feat. Rihanna – 'The Monster'
This chart-topper from 2013 tells a 'Jekyll and Hyde' style story of the duality of Eminem's personality; the man and the monster. It'll fit right in on your Halloween playlist.
The Fresh Prince and DJ Jazzy Jeff - 'A Nightmare on My Street'
It may be a little bit cheesy, but it would be a crime not to include this number in our list. The song, inspired by the famous 'Nightmare on Elm Street', makes frequent allusions to Freddy Kruger. Although it's certainly a product of it's time, we still have a soft spot for this one.
Rhyme Asylum - 'Iller Instinct'
This 2008 track is jam packed with vivid references to the occult, mythology, religion and violence. Complete with a memorable and almost catchy chorus, this song is dark, stormy and brilliant.
Yelawolf - 'Kill My Nightmare'
Crazy, wild, aggressive; this song by Yelawolf is scary in a way that most music simply isn't. The minimalist piano backing is at once somber and disturbing, and the throaty way Yelawolf spits out the words makes this a truly spine-chilling number.
Eminem feat. Bizarre - 'Amityville'
Named after the classic 1979 horror movie 'The Amityville Horror', this track was bound to make our list. The anthemic chorus and dark themes make this track (from The Marshall Mathers LP) somewhat jarring. Bizzare's verse takes the song to new depths of horror and savagery, and make the song genuinely hard to listen to in parts.
ICP – 'Boogie Woogiee Woo'
Dressed like something out of a Stephen King movie and with a name like 'insane clown posse', it comes as little surprise that ICP made our list. This song tells the age-old story of the boogie man, but with a unique ICP twist (unsurprisingly there are lots of colourful allusions to violence and horror).
Kanye West – 'Monster'
A fan favourite from Yeezy's 2010 album 'My Beautiful Dark Twisted Fantasy', this track features verses from Rick Ross, Jay-Z and Nicki Minaj all of which are anchored in the 'Monster' theme.
Gravediggaz – '1-800 Suicide'
Much like 'Insane Clown Posse', it is little surprise that a group named 'Gravediggaz' has a few spooky songs. However, what makes this song so uniquely brilliant is the ambient, chilled beat combined with aggressive, violent content. If you were only half listening to this song, you might think it was a song about relaxing on a summer day! It isn't though. It really isn't.
L.E.P. Bogus Boys ft. Lupe Fiasco - 'Zombieland'
With an superb chorus and a great variety amongst the verses, this 2011 track is a genuinely brilliant tune for any night of the year. However, since Lupe Fiasco even says "Happy Halloween" towards the end of his verse – it's got to be on the list for Halloween!
Whodini - 'Freaks Come Out At Night'
This early rap track (released in 1984) is a classic of it's time. The repetitive beat combined with the relatively tame lyrics do date this track, but it's still extremely enjoyable. The sense of "spookiness" it communicates is undeniable, and the trademark Whodini shellsuits are pretty scary too!
Whodini - 'The Haunted House of Rock'
With references to Dracula, The Invisible Man, Werewolves and countless other ghosts and ghouls, this song is surely the definitive early hip hop Halloween track. Bravo, Whodini!
Devlin feat. Rawz + Ghetts – 'Scary Movie'
This terrifying track combines the raw vocal style of the three artists with a horror movie theme; referencing such seminal movies as Candyman and Jason X. A far cry from the fun and games of The Fresh Prince or Whodini, this song contains intensely emotive threats and curses. It's still a shoe-in for this list though.
Plan B – 'Suzanne'
A calm, floaty Leonard Cohen sample is brilliantly juxtaposed next to the horrifying content of this 2007 track. It tells the story of the Camden Lock murder, a truly grotesque case involving the brutal murder of a London prostitute. This song captures both the horror and sombreness of the story it tells.
Tech N9ne – 'The Boogieman'
With an opening whispered voiceover, the tone of this song is set immediately. Tech N9ne's voice also lends itself to scary content nicely, and the production really finishes the track off nicely.
Geto Boys – 'Mind Playing Tricks on Me'
A song about paranoia, insanity, depression, loss and spending too much time indoors. This track is surprisingly self-effacing for the Geto Boys, and is also surprisingly ambient and friendly sounding.