20 Of The Best Bruno Mars Songs That Will Never Get Old
5 April 2018, 17:15 | Updated: 6 April 2018, 10:58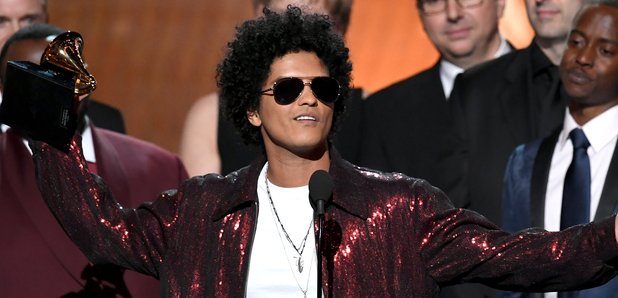 From 2018's '24K Magic' all the way back to his career breakthrough with 'Doo-Wops & Hooligans' in 2010, Bruno Mars has been on quite the journey.
As one of the best-selling artists of all time, '24k Magic' star Bruno Mars has got a lot to smile about.
After smashing onto the airwaves with 'Just The Way You Are' in 2010, the R&B singer has cemented himself as one of the most prolific songwriters and performers of his generation.
The Grammy Award winner has three multi-platinum selling albums under his belt, with solo efforts like 'Treasure' and 'Grenade' as well as hit collaborations 'Finesse' and 'Uptown Funk' adding to the Hawaii native's success.
Check out some of Bruno Mars' best songs below.
'24K Magic'
Kicking off our list is the unstoppable funk-laden lead single from Bruno's third album of the same name. This went on to win Record of the Year at the 60th Annual Grammy Awards.
'Uptown Funk'
Mark Ronson's chart-smashing hit single featuring Bruno is nothing short of a cultural phenomenon. It earned Bruno another Record Of The Year and is one of the best-selling singles of all time.
'Finesse (Remix)'
Adding some Hip-Hop flavour to Mars' already huge track is rising rap star Cardi B. The nostalgia is real in this colourful music video, which was inspired by 90's TV show 'Living In Color'.
'Just The Way You Are'
Bruno had us all in our feels with his breakout solo debut. A loveable ballad with an instantly memorable melody, 'Just The Way You Are' put Mars firmly on the map.
'Marry You'
As an instantly recognisable song about a spontaneous marriage, 'Marry You' has since become a favourite among hopeful proposers worldwide.
'Versace On The Floor'
Get ready for some serious Boyz-II-Men vibes! Bruno takes it back to the classic 90's R&B era with this smooth throwback ballad. Peep Zendaya in the music video.
'Perm'
An unmistakable revival of James Brown and a Hip-Hop-influence nod to the late great musician, 'Perm' is a catchy, modern day take on an iconic era of music.
'Count On Me'
A little bit cheesy, a little bit soppy, but mood-boosting and unapologetically crafted all the same. This innocent lullaby was a highlight on Mars' debut album.
'Treasure'
This is like sunshine in a song! The dense harmonies, funky-pop synths and a feel-good groove land 'Treasure' a definitive place on our list.
'That's What I Like'
No big deal, but 'That's What I Like' won three - yes, three - Grammy Awards at the 60th Annual ceremony. Combining elements of R&B, Hip-Hop soul and swing make this a silky modern hit.
'Chunky'
This vibrant cut from '24K Magic' is a sensational celebration of women of all shapes and sizes and we are HERE for it.
'When I Was Your Man'
You can literally feel the pain in Bruno's voice during this heart-wrenching ode to a former lover. Another top-seller, this regretful ballad swiftly picked up a Grammy nomination.
'The Lazy Song'
This wholesome bop - paired with the cheeky music video - is based around a lilting Reggae groove that's impossible not to smile to. The fact that it went triple platinum probably made Mars smile a lot, too.
'Gorilla'
The fourth single from 'Unorthodox Jukebox' was its highlight. Inspired by early '80s arena rock, Mars went IN on this raw, anthemic track.
'It Will Rain'
This powerful pop-soul ballad was chosen as the lead single for the first Twilight Saga: Breaking Dawn movie, and it's clear why. The heartbreaking lyrics and stunning vocal delivery stand the test of time.
'Billionaire'
Released in 2010, Travie McCoy catapulted Bruno's voice into the public's ears and, as a result, made him one of the biggest artists and songwriters to watch. Look at him now!
'Runaway Baby'
Despite never being released as an official single, 'Runaway Baby' smashed its way through the charts with its bouncy, high-octane energy and Mars' pristine vocal delivery.
'Locked Out Of Heaven'
With its infectious upbeat pulse and catchy melody, Bruno was never going to miss a trick with this belter. It's reggae-rock sound was heavily influence by The Police, Mars noted at the time.
'Lighters'
Eminem and Royce da 5'9" of Bad Meets Evil enlisted the chops of Bruno for this alternative Hip-Hop anthem. The award-winning song cemented Bruno as one of the pop's most sought-after voices of his generation.
'Grenade'
One of Bruno's most iconic songs is this powerful chart-topper. In the video, the R&B crooner can be seen dragging an actual upright piano through LA towards his love interest before meeting a tragic end.