The 5 Biggest New Songs Of This Week (7th August 2015)
7 August 2015, 09:48 | Updated: 29 March 2017, 11:48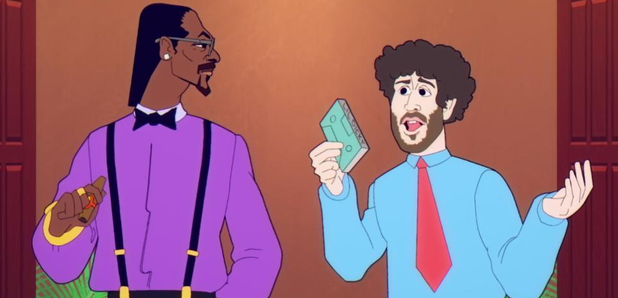 Featuring new music from Chris Brown, Rita Ora, Nicki Minaj and Snoop Dogg and Lil' Dicky's 'Professional Rapper.'
It was a week of strong collaborations, with Chris Brown and Rita Ora finally unveiling their new song 'Body On Me' after weeks of teasing it and Robin Thicke and Nicki Minaj teaming up for break-up song 'Back Together.'
But the stand out track of the week came from Lil Dicky and Snoop Dogg, who unveiled the official video for 'Professional Rapper.' The track hears new rapper on the block Lil Dicky tell Snoop how he's going to change the rap game - it's a must-see.
Robin Thicke Feat. Nicki Minaj - 'Back Together'
Robin Thicke has revealed his new single 'Back Together' this week, featuring none other than Nicki Minaj. Thicke sings about trying to get back with an ex-girlfriend, while Nicki provides some slick rhymes.
Rita Ora Feat. Chris Brown - 'Body On Me'
After weeks of teasing it, Rita Ora and Chris Brown have finally unveiled their new collaboration 'Body On Me' in full and it's quite the track. Hit play above.
Snoop Dogg And Lil' Dicky - 'Professional Rapper'
Lil Dicky has released an animated music video for his new single 'Professional Rapper', featuring Snoop Dogg. Directed by Al Levine and Doug Olsen, the funny clip sees Lil Dicky play an himself - upstart rapper trying to land a job, while Snoop Dogg does his best Hip-Hop boss impression. It's a must-watch.
Macklemore & Ryan Lewis - 'Growing Up (Sloane's Song)'
Following a brief hiatus, Macklemore and Ryan Lewis have returned with a new single featuring Ed Sheeran called 'Growing Up (Sloane's Song)'. This affectionate tribute, produced by Ryan Lewis, hears Macklemore reflect on fatherhood and share advice for his baby girl, Sloane Ava Simone Haggerty.

Lil B x Chance The Rapper - 'Free Based Freestyles Mixtape'
Chance The Rapper and Lil B have released their new joint project, 'Free Based Freestyles Mixtape'. "It's called #Free and yes it's real," Chance wrote on Instagram. "Conceived from magic, love, acid and bases. We made this the moment we met."