20 New Songs, Album And Remixes To Love In February 2015
29 January 2015, 16:54 | Updated: 29 March 2017, 11:48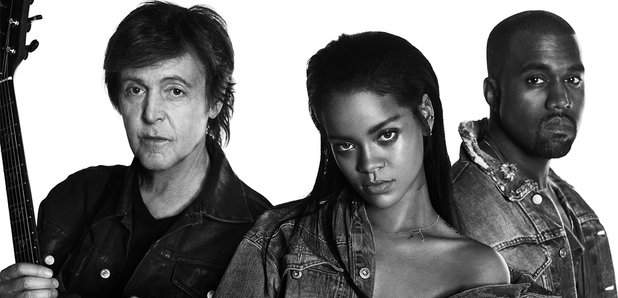 Hear the new music that will be soundtracking your February 2015, from Ne-Yo, 99 Souls, Sigma, Chris Brown and more.
Towards the end of January 2015 loads of big new music dropped that's left us with some strong material to soundtrack February with.
Trey Songz and Ne-Yo have got Valentines day covered with some smooth new r&b tracks, while 99 Souls and MK are continuing the party with an epic Brandy and Beyoncé remix from the former and a Bakermat remix you'll fall in love with from the latter.
The album to keep an eye on this month is Big Sean's highly anticipated 'Dark Sky Paradise,' while Kanye West and Rihanna are the ones to watch for more potential surprise releases.
Ne-Yo - 'Who's Taking You Home?'
The end of January saw the release of Ne-Yo's new album 'Non-Fiction,' and with it we're treated to tons of new material including this r&b/ dance track.
Ciara - 'I Bet'
Ciara has unveiled the first single off her upcoming sixth studio album. Titled, 'I Bet,' the heartfelt song hears Ciara talk sing about an ex that's done her wrong.
Jess Glynne - 'Hold My Hand'
Jess Glynne's second solo single hears her project her usual power vocals and will have listeners dance-floor ready.

Usher Feat Migos - 'Still Got It'
Usher drops some serious bars over the trap-inspired track, and proclaims that he's definitely not going anywhere.

99 Souls - 'The Girl Is Mine (Beyoncé Vs Brandy & Monica)'
Rising UK duo 99 Souls have unveiled a new track that mashes up Brandy and Monica's 1994 hit 'The Boy Is Mine' and Destiny's Child's 'Girl' for one epic jam that you need in your life.
Big Sean - 'Dark Sky Paradise'

The 'IDFWU' rapper is releasing his new album 'Dark Sky Paradise' in one month's time on 24th February.So far confirmed guest appearances on the album come from Drake, Jhené Aiko, DJ Mustard, DJ Khaled, PARTYNEXTDOOR, E-40 and more, while Kanye West and girlfriend Ariana Grande are also rumoured to make appearances.
Fifth Harmony - 'Like Mariah'
Fifth Harmony are continuing to drop new music ahead of the release of their debut album 'Reflection.' Their latest Tyga-assisted track 'Like Mariah' samples a Mariah Carey classic, her 1996 hit song 'Always Be My Baby.'

Sigma Feat. Labrinth - 'Higher'
Sigma, aka Cameron Edwards and Joe Lenzie, had an outstanding 2014 with back to back number one singles after the release of 'Nobody To Love' and the Paloma Faith assisted 'Changing.' It looks like they're set for a big 2015 too.
Melissa Steel Feat. WizKid - 'Burning Down'
The 'Kisses For Breakfast' singer has teamed up with one of the biggest names in Afrobeats, WizKid, for new track 'Burning Down.'

Trey Songz - 'Slow Motion'
The seductive slow jam hears Trey Songz sing about taking a woman back to the crib for a night of 'taking things slow.'

Sevyn Streeter Feat. Chris Brown
Sevyn Streeter and Chris Brown have teamed up again for a new collaboration titled 'Don't Kill The Run.' The r&b singers, who previously worked together on 'It Won't Stop,' sing about leaving their regrets in the past and simply having the time of their life in the feel-good track.
Bakermat - 'Teach Me (MK Remix)'
Master remixer MK, full name Marc Kinchen, has unveiled a huge remix of Bakermat's new song 'Teach Me.' MK keeps the vocals from Grammy Award-winning gospel singer Shirley Caesar's 'Teach Me Master' entirely in tact on the re-working of the song, while adding his signature sound and magic touch to it.
Frank Ocean - 'At Your Best (You Are Love)'
Frank Ocean has unveiled a beautiful cover of The Isley Brothers' classic as a tribute to Aaliyah who recorded the one for her 1997 debut album 'One In A Million.'
Tinie Tempah - 'Flash'
Tinie Tempah has unveiled new song 'Flash,' which looks to be the first single from his upcoming third studio album.


Fifth Harmony Feat. Kid Ink - 'Worth It'
The Fifth Harmony ladies have hooked up with Kid Ink for their brand new single, titled 'Worth It.' The 'BO$$' follow-up hears the former US 'X Factor' contestants express their worth over a trumpet heavy beat.
Kid Ink Feat. Chris Brown - 'Hotel':
After scoring hits with collaborative songs 'Main Chick' and 'Show Me,' Chris Brown and Kid Ink reunite once again for the club-ready track that hears them address girls checking them out while they're with their girlfriends.
Lil' Wayne Feat. Drake - 'Used To':
At the end of last month Lil' Wayne unveiled his new mixtape 'Sorry 4 The Wait 2, ' featuring 17 tracks to tide fans over until the eventual release of his next studio album 'Tha Carter V.' One song titled 'Used To' hears the veteran rapper once again team up with his Young Money label-mate Drake to rap about what life's like at the top.
Years & Years - 'King'
Years and Years have unveiled a bouncy new track titled 'King.'
Lupe Fiasco Feat. Crystal Torres - 'Adoration Of The Magi'
Lupe Fiasco has dropped a brand new song titled 'Adoration Of The Magi.' Featuring Crystal Torres and produced by DJ Dahi, the track hears the 'Superstar' singer rap about someone trying to grow up too fast.
Rihanna Feat. Kanye West and Paul PcCartney - 'FourFiveSeconds'
Not long after Kanye West and Paul McCartney unveiled their collaboration on 'Only One', Rihanna got in on the party. Could this be the first track off Rihanna's new album?