19 New Songs, Albums And Remixes To Love In April 2014
1 April 2014, 10:37 | Updated: 29 March 2017, 11:48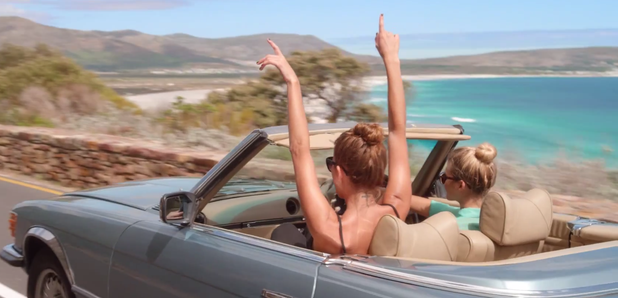 Here's our monthly round-up of the best new music in April, featuring some of our favourite remixes and club tracks of the moment.
1) Future - 'Good Morning'
Future has dropped a studio version of that song that sounds a lot like Beyonce's 'Drunk In Love.' According to Future 'Good Morning' was written alongside 'Drunk In Love' with the song's producer Detail, but Bey released it first so his version got knocked off his forthcoming 'Honest' Album. Either way, it's a nice twist on a familiar song.
2) B.o.B - 'Get It'
B.o.B's new track has all the soul you need for the summer months. The song, entitled 'Get It' sees the 'John Doe' rapper sample Jimmy Cliff's classic 1969 soulful reggae/ gospel track 'Many Rivers To Cross.' B.o.B uses the track to express some of his bigger thoughts and questions about life; "How can we ever be free if policies don't change? Are we all just lost in the city of madness and do the powers that be lack human compassion?
3) Duke Dumont Feat. Jax Jones - 'I Got U (MK Remix)'
Everyone wants a piece of Duke Dumont's latest single 'I Got U' featuring Jax Jones. The latest person to get their hands on the song is Los Angeles based producer and DJ MK, who has transformed the track into seven minutes of energetic piano house.
4) David Guetta And Showtel Feat. Vassy - 'Bad'
David Guetta is back with a big dance anthem and he's teamed up with dutch EDM duo Showtek for the production and Aussie singer Vassy for the vocals. The electro-sound makes it a stage-ready track in time for the festival season, with Vassy's heavily auto-tuned voice repeating the lyric: "Why does it feel so good, so good to be bad?.
5) Jhené Aiko - 'My Afternoon Dream'
To celebrate her 26th birthday 'The Worst' singer Jhené Aiko shared a new song entitled 'My Afternoon Dream,' plus an accompanying music video.A perfect match to the laid-back sound, the video for the song simply shows the ocean and the sky, or Jhene's "blue dream." It was shot entirely by Jhene and her friends themselves on a trip to Maui using only a GoPro camera, and edited by Jhené in iMovie.
6) Thirty Seconds To Mars - 'Do Or Die (Afrojack Remix)'
The track originally featured on the Jared Leto-fronted band's 2013 album 'Love, Lust, Faith and Dreams', but has now been re-worked by the Dutch DJ into an EDM anthem. Featuring the main vocal hook from Jared Leto, the song builds and builds until Afrojack drops a Big Room beat and uplifting synths into the mix.
7) Calvin Harris - 'Summer'
Calvin Harris has revealed what is sure to be the anthem of 'Summer' 2014. The track is his first to feature his own vocals since 'So Close,' and it sounds good.
8) Sevyn Streeter's 'nEXT (Kid Ink Remix)'
Kid Ink has hopped on to the new single 'nEXT' from Sevyn Streeter's EP 'Call Me Crazy'.
The 'Show Me' singer kicks the track off with a short intro, while Streeter relays the difficulties she's having with a recent relationship.
"How can my ex-boyfriend be my next boyfriend?" she sings, as Kid Ink comes back in to play the role of boyfriend, rapping; "Might say tonight was the last straw, but i the morning i'll be sipping from your glass jar."
9) Grades Unveils Big Remix Of Aaliyah's 'Rock The Boat'
Rising British producer Grades has breathed new life into the classic Aaliyah song 'Rock The Boat' with a big new remix sure to become a summer favourite. You can also find a remix of Brandy's 'I Wanna Be Down,' on Grades' SoundCloud page.
10) Fuse ODG Feat. Sean Paul - 'Dangerous Love'
The song, which received its exclusive first play on Capital XTRA, follows Fuse ODG's December 2013 release 'Million Pound Girl' which peaked at number five in the UK Singles Chart. It will feature on Fuse's upcoming album TINA.
11) Joel Compass - Forgive Me
'Forgive Me' follows the 20 year old singer-songwriter's previous release Run, which he had originally written for Rihanna, but decided to release for himself. If you haven't heard of him yet, get listening - we predict big thing.
12) Martin Garrix - 'Proxy'
The track is Garrix's first original mix since 'Wizard,' his 2013 song that went reached number one in the UK singles chart and found itself as a top ten hit in more than ten countries. Not only is the 17-year-old Dutch DJ treating fans to new material, but he's giving it away for free.
13) Sigma - 'Nobody To Love (Grum Remix)'
Sigma took Kanye West's 'Bound 2' and breathed new life in to the hit track, but if you thought the song's life-span would soon be over think again because 'Nobody To Love' just got a big new remix from Scottish electronic musician Grum.The song is set to be released on 13th April alongside Sigma's original on the same day as his 'Human Touch' album.
14) Kid Ink - 'The Money And The Power'
Kid Ink is unstoppable at the moment, if he isn't dropping new tracks with Chris Brown or Sevyn Streeter he's going solo and his latest project 'Money And The Power' is just a strong as his first. Available now on his 'My Own Lane' debut album, the song is being released as a single this month.
15) Avicii - 'Addicted To You (Avicii Remix)'
The vocals take centre stage in the original Avicii single, but this time round the track is more energetic in time for festvival season - it will feature on Avicii's remix album 'Avicii By Avicii' that will see him remix every song released on 'True.'
16) Davido - 'Skelewu'
Afrobeats singer Davido is back with a big new tune 'Skelewu,' for which you can find the official video above. You knot it's a big one when it make Abrantee's Afrobeats chart. Take a listen.
17) The Weeknd - 'Wanderlust (Pharrell Remix)
You can't go wrong when you get The Weeknd and Pharrell's vocals on one track.
Adding some smooth vocals over a re-worked beat, the pair have made a chilled r&b jam we can't get enough of.
18) Beyoncé - 'Partition'
So we know this actually dropped on Beyoncé's self-titled album back in December last year, but this April Beyonce's sexiest song yet gets an official release. We're not done listening to it yet, are you?
19) Alicia Keys And Kendrick Lamar - 'It's On Again (Prod. By Pharrell)
Collaborations don't get much better than this. Alicia Keys and Kendrick Lamar have teamed up for the song that will feature on 'The Amazing Spiderman 2 Soundtrack' - Kendrick kills it with his opening verse, and with Skateboard P on production you know it's a winner.