17 New Songs, Albums And Remixes To Love In March 2014
28 February 2014, 17:01 | Updated: 29 March 2017, 11:48
Here's our monthly round-up of the best new music in March, featuring some of our favourite remixes and club tracks of the moment.
1) Pharrell, 'G I R L'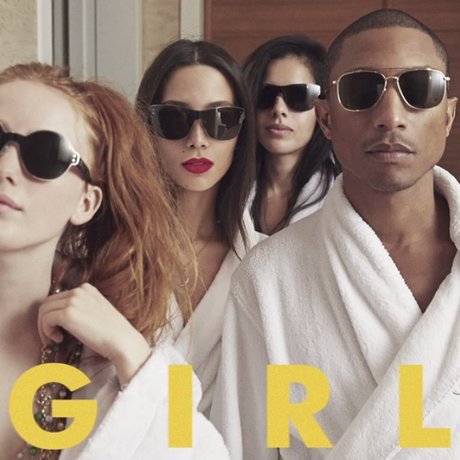 Pharrell only announced his new album 'G I R L' a few weeks ago, but 3rd March marks the release of The Neptunes star's second studio album. Featuring collaborations with the likes of Justin Timberlake and Daft Punk, the album builds on what has been an incredible 18 months for Pharrell and includes his worldwide hit single 'Happy'.
2) D'Banj - 'Bother You'
D'Banj is back! Fresh from the success of 'Oliver Twist', the Afrobeats star is done name-checking female artists and instead sampling Lionel Ritchie on his new single 'Bother You'. Look out for this transforming into a summer anthem.
3) Aloe Blacc Feat. Kid Ink - 'The Man'
sdf
4) DVBBS & Borgeous Feat. Tinie Tempah - 'Tsunami (Jump)'
After being a big room anthem for months, DVBBS and Borgeous' 'Tsunami' finally gets released this month and comes at you hard with new vocals from Tinie Tempah.
5) Route 94 Feat. Jess Glynne - 'My Love'
Quite simply: if you haven't heard 'My Love' then where have you been? Route 94's new single features the incredible vocal talents of Jess Glynne, who's another artist you should be watching out for.
6) Redlight feat. Lotti - '36'
There's some strong 90s vibes about '36', the new single from Redlight, which will take you higher and higher and higher until you literally can't stop dancing.
7) Raleigh Ritchie - 'Stronger Than Ever' (MJ Cole Remix)
Two incredible UK talents unite on 'Stronger Than Ever' - in one corner you've got newcomer Raleigh Ritchie and in the other you've got Garage legend MJ Cole. Together they make incredible music.
8) Rick Ross, 'Mastermind'
If Beyonce dropped her album without any warning, Rozzay has done it in completely the opposite fashion, releasing teaser after teaser of his new album 'Mastermind'. It's released on 3rd March and features collaborations with just about everyone from Kanye West to Lil' Wayne'.
9) Major Lazer - 'Apocalypse Soon EP'
March finally sees the release of 'Apocalypse Now'. The new EP from Major Lazer sees them collaborate with a host of stars, including Pharrell Williams on 'Aerosol Can', while 'Lose Yourself' featuring RDK And Moska is another big tune to watch out for on the EP.
10) Tujuamo & Plastic Funk feat. Sneakbo - 'Dr. Who'
This song is too catchy. Just get involved.
11) Faul & Wad Ad vs Pnau - 'Changes'
The more hardcore readers among you might be familiar with 'Changes' already, but months after it originally surfaced online, Faul & Wad's track now looks set to become one of the summer anthems of 2014. Listen out for the saxophone!
12) Beyonce Feat. Jay Z - 'Drunk In Love' (The Weeknd Remix)
This is the biggest remix of 'Drunk In Love' to date. End of discussion.
13) Nicki Minaj, Tyga and Lil Wayne - 'Senile'
With the new Young Money album on the horizon, here's a sneak peek of what to expect in the form of 'Senile' - a collaboration between, Nicki Minaj, Tyga and Lil' Wayne.
14) Duke Dumont Feat. Jax Jones - 'I Got U' (Tensnake Remix)
When Tensnake's not killing dancefloors with his own productions, the producer and DJ's remixes are doing the business. Take his remix of Duke Dumont's 'I Got U' as an example - the track just oozes deep house vibes that are guaranteed to get any party started.
15) Gorgon City Feat. Liv - 'No More'
Finally, here's a free download from one of our favourite artists Gorgon City. The track's called 'No More' and it's pretty brilliant.
16) Sigma, 'Bound 2'
Sigma originally dropped this drum and bass version of 'Bound 2' as a bootleg, but now it's getting an official release. That makes us very excited.
17) Avicii - 'Addicted To You' (David Guetta Remix)
When two of the world's biggest DJs come together, magic happens - and that's exactly what David Guetta's remix of 'Addicted To You' by Avicii sounds like: Magic.