Ibiza Songs 2014: The Dance Party Anthems Of The Summer
4 June 2014, 12:18 | Updated: 29 March 2017, 11:48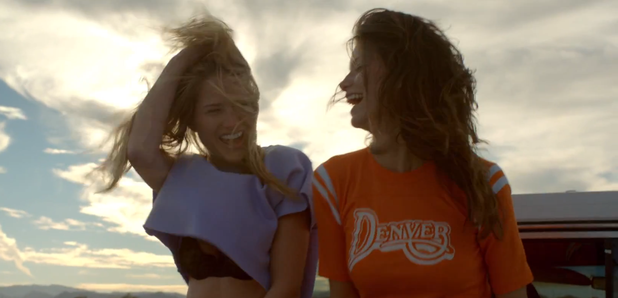 It's all about Ibiza this summer so we've got some big track predictions for you. Here are our top 27 Ibiza Summer Anthems for 2014...
The Ibiza season has arrived, so here are our predictions for the dance songs that will be soundtracking your time on the White Isle this summer - from the unstoppable Secondcity and Duck Sauce to new music from the likes of Jess Glynne and Watermät.
These are our future Ibiza classics.
Keep locked into Capital XTRA over the coming months for all the action from some of Ibiza's biggest clubs.
1. Secondcity - 'I Wanna Feel' (Brookes Brothers remix)
The Brookes Brothers have done it again by turning an already uplifting house track into a drum and bass success with their remix of SecondCity's, 'I Wanna Feel'. Slowed down and then sped up, the track is a fusion of old school flavours and deep basslines, finished with vocals that seal the deal and make it the perfect Ibiza summer anthem for 2014.
2. Duck Sauce – 'NRG'
A Duck Sauce track would be incomplete without a bit of comedy and their latest single 'NRG' doesn't disappoint. We think Armand Van Helden and A-Trak are more than ready for a mad summer season, don't you? Check out the video and you'll see what we mean.
3. Calvin Harris - 'Summer'
Calvin Harris' suitably named track, 'Summer' featured in our Summer Anthems 2014 post as a track to watch out for this year and we still can't get enough of it... We're predicting big things for this one over the summer from London to Ibiza.
4. Deadmau5 feat. Colleen D'Agostino - 'Seeya'
If you're a fan of Deadmau5 then you're no stranger to deep, pulsating basslines and his latest track 'Seeya' has exactly that but it also has a whole lot more... Here we see Deadmau5 try something new - something slower and more funk-house than the electro/proggy sound we're used to - and we love it!
5. Little Dragon - 'Paris' (Totally Enormous Extinct Dinosaurs Holiday Edit)

WOW - this remix of Little Dragon's 'Paris' is one of our favourites! British producer, TEED has transformed 'Paris' into a gritty underground club sound but without compromising the charm of the original, with Yukimi Nagano's vocals woven throughout.
6. Coyu & Ramiro Lopez - 'That's Not Happening'

Ibiza in the summer is all about fist pumping your way through all your favourite anthems and with rolling basslines and grooving synths this track has it all. Muttered vocals creep in and out to maintain the groove and you're instantly transported to the heart of the Ibiza dancefloor.
7. Oliver Rees - 'Eyes' (Original Mix)

Now this one's pretty special... UK producer, Oliver Rees brings a fresh sound to the table with his deep house track called 'Eyes', which is riddled with Bollywood-esq vocals and has a bounce that is so perfect for summer it's more than infectious. We can definitely picture this going off in Sankeys Ibiza!
8. Jess Glynne - 'Right Here'
Imagine this one blasting through your speakers whilst you're chilling by the pool or at the beach with your mates, or better still dancing the night away. Beach, pool or club... it never fails!
9. Wilkinson feat. Tom Cane - 'Half Light'
The lyrics "nothing can touch where we've been tonight" say it all... a big tune to see the morning in whilst living the dream in Ibiza.
10. Tiësto feat. Matthew Koma - 'Wasted'
Tiësto is a firm staple in the Ibiza club scene, having been a resident on the island for many years, and his new one 'Wasted', although more of a radio track than a big club anthem, is definitely one to add to your Ibiza playlist. Plus, with Matthew Koma on vocals, who has previously featured on tracks for Alesso, Hardwell and Zedd, it's a hard one not to like!
11. Gorgon City feat. Laura Welsh - 'Here For You'
'Here For You' is a big track with even bigger vocals and we predict that it's going to be one of the biggest summer anthems this year. Put it on and turn it up whilst you're preparing for a big night out!
12. Bakermat - 'One Day (Vandaag)'

We couldn't be happier about Bakermat re-releasing 'Vandaag' from his 2012 EP of the same name. 'One Day' (Vandaag) has to be one of our favourite tunes for the summer ahead, with its powerful sax instrumental you can't help but be taken away to a beach somewhere. Plus, Amine Edge & DANCE have already remixed the track so there's no chance of missing it this summer.
13. Oliver Heldens X Becky Hill – 'Gecko (Overdrive)'
Steel drums welcome us into this track and make way for an upbeat groove and feel good melody - a perfect tune for summer!
14. Zinc – 'Show Me'
This is a massive feel good track with an old school melody and solid bounce that ride alongside catchy vocals - it's already stuck in our heads.
15. Dimitri Vegas, Martin Garrix & Like Mike – 'Tremor'

One for the electro loving dance fans, 'Tremor' does what it says on the tin with punching synths and progressive build ups, making it the perfect anthem for The Terrace at Amnesia.
16. ZHU – 'Faded'
Faceless producer ZHU brings us this chilled (but with a bit of grit) track straight from the clubs of Paris.
17. Otto Knows – 'Parachute'

This big electro track from Otto is bound to get your arms in the air in Ibiza this summer with energetic build ups and powerful drops... A proper main room anthem!
18. Sander Van Doorn, Martin Garrix & DVBBS - 'Gold Skies'

Say hello to our big festival banger, Gold Skies, which sees Sander Van Doorn, Martin Garrix & DVBBS join forces to bring us one of this summer's biggest songs ever. It's perfectly progressive and sees all three artists bring their signature style to the track.
19. Watermät – 'Bullit'
If you're not seduced by the video you definitely will be by the track. Waves of euphoria build up into a delicate summertime instrumental, whilst a bass kicks in to give it that bounce which is perfect for the Ibiza dance floor.
20. MK feat. Alana - 'Always' (Route 94 Remix)
Route 94 delivered this solid remix of MK's 1992 track 'Always' featuring Alana and has seen it go on to be a huge success. "Do you know what your love is doing to me baby" plays out as garage sounds bounce alongside house grooves.
21. Green Velvet & Riva Starr - 'Robots' (Weiss Remix)
This track sees two BIG names – Green Velvet and Riva Starr take you on a march alongside robotic sounds as dazed vocals repeat "I was raised by robots". As the track progresses you're pulled into a deep rhythm so it's no surprise that this has been a favourite this summer and one that we think will hang around.
22. Ten Walls – 'Walking with Elephants'
The warped beats of a Ten Walls' production can never be mistaken and both his 'Gotham' EP and the more recent 'Walking With Elephants' have been huge floor fillers this season. The Lithuanian mastermind never fails to inflict his signature bass into a track and that's exactly what pleases the crowd and we can't get enough of it!
23. Patrick Topping – 'Forget''
Another solid track from Hot Creations and another summer banger for the imprint. This time the synth-ridden jungle fusion comes from rising star Patrick Topping from his 'Boxed Off' EP… nice!
24. Oliver $ & Jimi Jules - 'Pushing On'
This has to be one of our favourite tracks of summer 2014. It's as big, if not bigger than we expected and it probably has something to do with the stomping bass, ma-hu-sive rhythm and chunky synths – not to mention the vocals. How can you not sing along?
25. Pharrell Williams ft. Jay Z - Frontin' (Disclosure remix)
Disclosure are insanely hot right now and their remix of Pharrell Williams' classic hit 'Frontin' won't fail to get you on the dancefloor. A slow seductive bass builds up alongside speedy vocals later releasing into a dubby bassline fiesta, creating the perfect house remix of an all time favourite record.
26. Ninetoes - 'Finder'
Kling Klong Records brings us Stuttgart DJ Ninetoes' debut release 'Finder' and with its Caribbean flavours the track was definitely made for summer. With steel drums, loads of percussion and plenty of chanting, this release shouts sunshine and good times! Perfect for beach party vibes!
27. Daniel Steinberg - 'Let Me Down'
Full of old school charm and disco vocals 'Let Me Down' is a 'hands in the air' house classic. Unleash your funky soul sister on the dance-floor with this melodic masterpiece… Big tune from Defected Records!
Need more playlist inspiration? Check out our Summer Anthems 2014.